INDONESIA PRESIDENTIAL ELECTION ABROAD JULY 4-6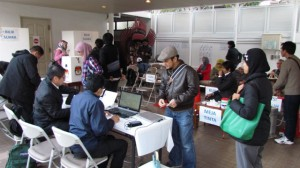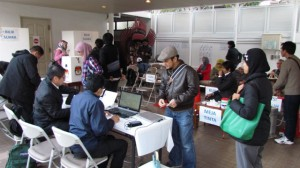 Jakarta, 6 Ramadan 1435/4 July, 2014 (MINA) – The Indonesia Election Committee for Abroad (KPU PPLN) set schedule for Presidential Election 2014 abroad on Friday to Sunday, 4-6 July 2014 . Whereas in Indonesia to hold on Wednesday, July 9, 2014.
It is according to KPU Decree No. 462/Kpts/KPU/2014 signed by the chairman, Husni Kamil Manik on June 20, 2014 about the implementation of Presidential Election in abroad.
"The decision is effective since the date decreed. If any change afterwards, it will be fixed as appropriate,"said KPU's release on Cabinet Secretariat website.
KPU PPLN attached the schedule for capitals of each representatives of Indonesia, including in Abu Dhabi (UAE) to hold on July 5; Amman (Jordan) on July 4; Ankara (Turkey) on July 5; Baghdad (Iraq) on July 5 and Bangkok (Thailand) on July 5.
While in Beijing on July 6; Berlin (Germany) on July 5; Canberra (Australia) on July 5; Cape Town (South Africa) July 5; Damascus (Syria) July 6; and Den Hague (Netherlands) July 5.
Dili (East Timor), on July 5; Hong Kong July 5; Islamabad (Pakistan) July 6; Cairo (Egypt), July 5; and Kuwait City (Kuwait) July 5.
For in Londong(England) on July 5; Madrid (Spain) 6 July; Kuala Lumpur (Malaysia), July 5; Copenhagen (Denmark) July 5; and Jeddah (Saudi Arabia) July 4. (T/Syt/R1/P04).
Mi'raj Islamic News Agency (MINA)