Thaudands Mass Hold Action around Constitutional Court building, Jakarta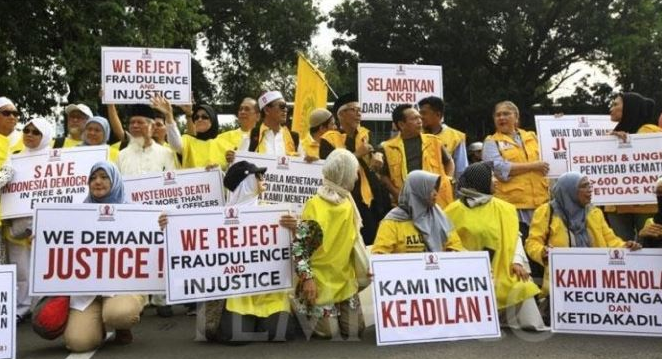 Jakarta, MINA – National Police Headquarters predicted about 2,000 people hold an action at around Constitutional Court building, Gambir, Central Jakarta on Thursday, June 27.
They gather at the Horse Statue, Central Jakarta in hearing 2019 Presidential Election dispute, as quoted from Sindonews.
Brigadier General Dedi Prasetyo said that the police received an estimate the number of people who would be packed around Court Building this afternoon. It predicted to reach two thousand people consisting of various mass elements.
"Information from Metro Jaya Regional Police field line, an estimated number of around 2,000 masses to come. At present there are 14 elements of society," he said when confirmed by reporters.
According to him, in securing the mass, National Police joint with Army standby around Constitutional Court Building, Jl. Medan Merdeka Barat, Gambir, Central Jakarta. Therefore, people are asked not to worry about carrying out their activities as usual.
He also hoped that in the event there would be no riots in Jakarta. The police also appealed and reminded society not to be provoked if there are rioters.
"But the security is held by the Regional Police and team. Be careful with certain parties with mass provocation," he said. (T/Sj/P2)
Mi'raj News Agency (MINA)