Jokowi-Ma'ruf Make Statement after Constitutional Court's Decision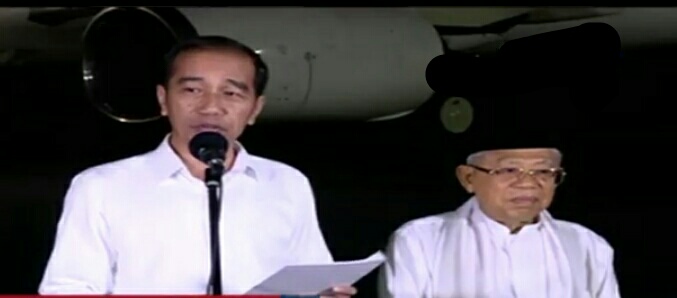 Jokowi-Ma'ruf Make Statement after Constitutional Court's Decision (Screenshot)
Jakarta, MINA – Indonesian President-elect Joko Widodo and his Vice President Ma'ruf Amin gave statement regarding the results of 2019 presidential election dispute that was announced by Constitutional Court Judge (MK).
"The process of 2019 presidential election that we passed in the last 10 months has become a maturation for our country," Jokowi said when giving his statement at Halim Perdanakusuma Airport, Jakarta, Thursday night, June 27.
Jokowi said that the people had spoken, the voice of people had been heard and the people had decided and had been decided by the Constitutional Court.
"We have passed the stages of campaigning, voting, vote counting, monitoring and resolving electoral disputes both in the Supreme Court and the Constitutional Court, all stages have been carried out openly and transparently," he said.
"Thank Lord, tonight we know the results of the Constitutional Court's decision, we all witnessed the trial openly and witnessed by all the people of Indonesia," Jokowi said.
According to him, the final verdict of the Constitutional Court should be respected and carried out together.
"I invite that we as Indonesian people can build and advance our beloved Indonesian homeland. There are no more 01 and 02, only Indonesian unity exists, even though political choices are different, we must respect and respect each other, "he said.
Jokowi also expressed his gratitude to the KPU, Bawaslu, TNI, Polri who have ensured, escorted and secured the 2019 elections.
Meanwhile, Vice President Amin Ma'ruf said that the Constitutional Court's decision was essentially not to win one party, but the entire Indonesian nation to unite Indonesian Nation.
"We are one, Indonesia. Our task now is to realize the ideals of proclamation and work together to roll up our sleeves for our common good, "he added. (TL/Sj/P2)
Mi'raj News Agency (MINA)