Indonesia Can Independently Resolve Human Rights Cases in Papua: Says Horta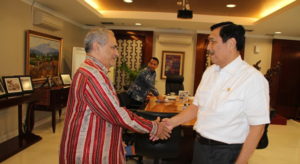 Jakarta, 29 Rajab 1437/07 May 2016 (MINA) – Indonesia is able to resolve human rights cases in Papua itself, without any assistance from outside institutions, according to Nobel Peace 1996 laurates Jose Ramos Horta.
"Indonesia has several agencies that deal with human rights, such as the Komnas HAM (The National Commission on Human Rights) and other similar NGOs, and the government to conduct an investigation over the violence issue there," Horta stated here.
The Indonesian government should also involve NGOs in Papua to review the current conditions there, Horta remarked.
In order to internally resolve its problem in Papua, Indonesia needs to allow the local institutions to handle the matter.
Former president and prime minister of Timor Leste also noted that most of Papuas people still had faith in the Indonesian government and did not favor a separation, Antara was quoted by Mi'raj Islamic News Agency (MINA) as reporting.
"Under the administration of President Joko Widodo, who is committed to improving the situation in Papua, there are several people in the province who are hoping for an improvement after years of disappointment. I see a lot of hope in the new government," Horta affirmed.
Horta hoped that a significant step will be taken to grant more rights to the people of Papua.
"The government needs to give priority to the local people of Papua, so they feel safe and protected," Horta emphasized.
Moreover, the government must create greater economic opportunities in Papua, ensure womens empowerment, and improve the quality of education.
Earlier, on May 2, Minister for Political, Legal and Security Affairs Luhut Binsar Pandjaitan, on behalf of the Indonesian government, invited Horta to Papua to hold a dialog with the local residents.
The government is committed to building Papua and resolving human rights cases. (T/R07/R01)
Mi'raj Islamic News Agency (MINA)