Erdogan: Israel Is Trying to Take Al-Aqsa Mosque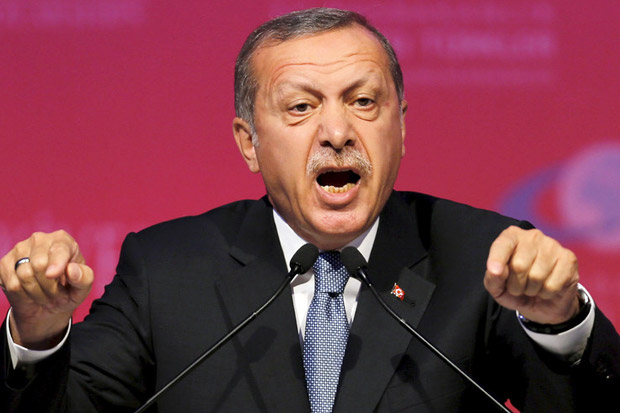 Erdogan: Israel tries to seize Al-Aqsa from Muslims
Ankara, MINA – Israel is attempting to take over Al-Aqsa Mosque from "the hands of Muslims," Turkish President, Recep Tayyip Erdogan, warned today.
Speaking at a meeting with the Justice and Development Party (AKP) in Ankara, Erdogan stressed that it is "unacceptable" to deal with the holy site's worshipers as "terrorists," MEMO reported, Wednesday (26/7).
"Everyone, who knows Israel, is aware that restrictions on Al-Aqsa mosque are not due to safety concerns. Israel is trying to take Al-Aqsa from Muslims under the guise of counter-terrorism efforts," he said.
The AKP chairman strongly condemned the Jewish state on barring the Palestinian worshipers to access the holy site in recent days.
"It's a matter of faith, not a matter of ability to protect our holy sites," Erdogan says, calling on Muslims to visit Al Aqsa Mosque.
Addressing the Islamic world, Erdogan called on Muslims to be active in defending Al-Aqsa. "When Israeli soldiers carelessly pollute the grounds of Al-Aqsa with their combat boots by using simple issues as a pretext and then easily spill blood there, the reason [they are able to do that] is we [Muslims] have not done enough to stake our claim over Jerusalem," he said.
"From here, I make a call to all Muslims. Anyone who has the opportunity should visit Jerusalem, Al-Aqsa Mosque. Come, let's all protect Jerusalem," the Turkish presided added.
On Saturday, Erdogan denounced Israel over the crisis and what he described as "excessive use of force" against Muslim worshippers. He also called for the international community intervention.
Over the past two weeks, Al-Aqsa compound has been witnessing bloody clashes as Palestinians are being forced by the occupation police forces to walk-through security gates before entering the holy site. Despite the mounting toll of deaths and injuries in the crisis, Israelis and Palestinians are braced for weeks of confrontation, as both sides appeared to dig in to their positions.(T/R04/RS5)
Mi'raj Islamic News Agency (MINA)