ERDOGAN HINTS AT COOPERATION ON ISIL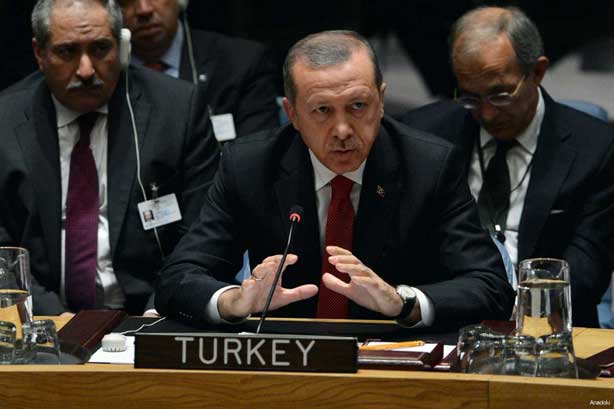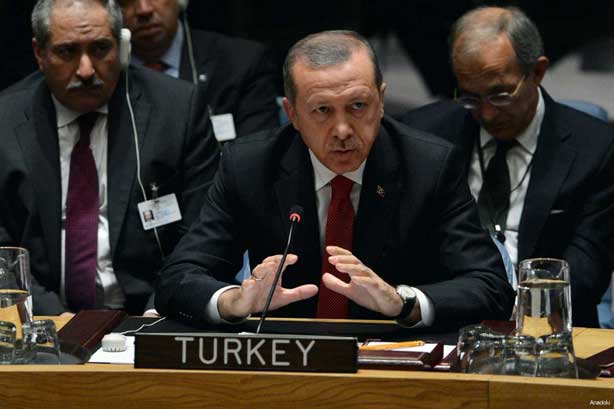 Ankara, 4 Dzulhijja 1435/28 September 2014 (MINA) –Turkish President Recep Tayyip Erdogan called on Friday for a no-fly zone and secure area on Syria and stressed the importance of determining who Turkey's partners will be to manage these issues.
"A no-fly zone must be declared and this no fly-zone must be secured," Erdogan said as he arrived at Istanbul Ataturk Airport, returning from New York.
He said that he discussed these issues with the US President Barack Obama and Vice President Joe Biden on the sidelines of the 69th session of the UN General Assembly, according to the Middle East Monitor (MEMO) reports monitored by Mi'raj Islamic News Agency (MINA), Sunday.
Erdogan added: "A secure area should be created on the Syrian side of the Turkish border, where tens of thousands of Syrians have fled the fighting as refugees. Turkey could probably protect such an area with its artillery."
The Turkish leader said he would not speak about the details of his remarks before discussing all issues with the government, which would later on announce steps to follow.
A step which might be considered a hint that Turkey is to join the US coalition against ISIL, Erdogan agreed with Obama and Biden to work together to counter the threat posed by ISIL in both Iraq and Syria and to continue to consult closely on regional developments.
A White House statement on the Erdogan-Biden meeting noted: "The two leaders discussed the urgent need to build a broad-based coalition to defeat ISIL through a variety of means, including military actions, efforts to stop terrorist financing, countering flows of foreign fighters into the region, and delegitimising ISIL's extremist ideology."
Erdogan stressed that the region is going through a critical phase and that it has a 1,250km-long border in the south with Syria and Iraq.
"We do not have the luxury to say that the terrorist acts in Iraq and Syria are not our problem," he said. "There are 1.5 million refugees in Turkey who have escaped from the war. We cannot say we do not care. We need to end this one way or another."
Regarding the reason Turkey did not join the coalition against ISIL, Erdogan noted that was because of the 49 Turkish hostages in the hands of ISIL. He said that his country was exerting efforts to return them home safely.
The anti-ISIL coalition was made up of 40 countries, which became 104 when the United Nations Security Council convened in New York. This number, he noted, might have increased by now.
Erdogan noted that ISIL's acts are deeply hurting Islam. "It is not possible to associate their actions with our religion Islam," he said.
"Islam is a religion of peace and brotherhood. Our religion will never allow the killing of defenceless people. These acts hurt us deeply as Muslims and cast a shadow over Islam," he said. (T/P002/P3)
Mi'raj Islamic News Agency (MINA)