CALGARY TARAWIH PRAYERS WELCOME RAMADAN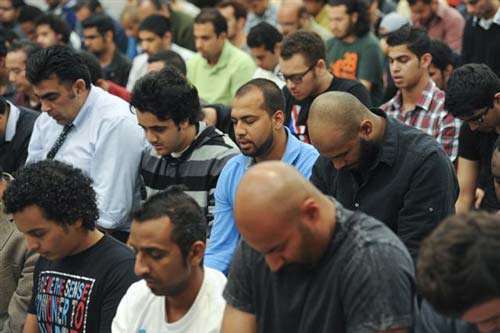 Calgary, 1 Ramadhan 1435/29 June 2014 (MINA) – As Ramadan knocks the doors in Calgary, a leading Canadian Muslim organization has been wrapping up their preparations for special prayers and programs to make Ramadan easier for Muslims in the fasting month long day hours.
"We have many Muslim taxi drivers who will be fasting during the Stampede and providing services to our guests coming from across North America and our local people who will be utilizing taxi services during Stampede week," Atthar Mahmood, vice-president with the Islamic Supreme Council of Canada, told Calgary Herald, OnIslam quoted by Mi'raj Islamic News Agency (MINA) as reporting, Sunday
"To assure that all services are available to the guests and for the taxi drivers, the ISCC will be providing Iftari (ending fast) at the Al Madinah Downtown location at 421 Riverfront Ave. S.E.
"Delicious foods and drinks will be accessible to drivers and Muslim Stampede visitors, along with evening prayers. People will be able to undo their fast here and offer prayers, then they can resume their services to our beautiful city visitors," Mahmood, also the president of Muslims Against Terrorism, added.
Ramadan, the holiest month in Islamic calendar, is expected to start on Saturday in North America according to astronomical calculations.
In Ramadan, adult Muslims, save the sick and those traveling, abstain from food, drink, smoking and sex between dawn and sunset.
Muslims dedicate their time during the holy month to be closer to Allah through prayers, self-restraint and good deeds.
Muslims in North America started fasting on Saturday, June 28, on the first day of the holy month of Ramadan.
Special Programs
Welcoming the holy month, the Islamic Supreme Council of Canada will be presenting Ramadan programs for Calgary and across the nation from Halifax to Victoria.
"Taravee (Tarawih) Prayers are the special prayers done only in Ramadan," says Mahmood.
"They start immediately after the last prayer of the night which is called Isha. Muslims pray five times a day – Fajr early morning, Zuhr early afternoon, Asr late afternoon, Mughrib at sunset and Isha one-and-a-half hours after sunset.
"Only in Ramadan we do Taravees in which the Imam recites at least a chapter of the Quran each night and completes his recitation of the book on the Night of Power. Taravee prayers will start at 11:30 p.m. and finish about 1 a.m. Prayers are held every day of Ramadan."
Muslims – both men and women – attend the Tarawih prayers in the mosques after `Isha (the last evening prayer) to pray in congregation.
One may also perform the prayers individually at home, but praying in congregation is preferred.
The Tarawih prayers are voluntary, but are strongly recommended and widely practiced.
During the special night prayers, imams will recite the complete Qur'an over the whole month,
"The Imams of all (those) locations will fully recite the complete Quran and recitation of the Holy book will end on the Night of Power," says Mahmood, adding that every adult Muslim is required to fast from dawn to sunset.
"They cannot consume any food or drinks. No smoking or spousal relationships during fast times . . . They are able to resume their normal life after sunset . . . Elderly, people suffering from terminal diseases, children under the maturity age, people who are travelling and women menstruating or lactating are excused from fasting."(T/P012/E01)
Mi'raj Islamic News Agency (MINA)