As an Internatonal Hub, Hong Kong is Home to About 300,000 Muslims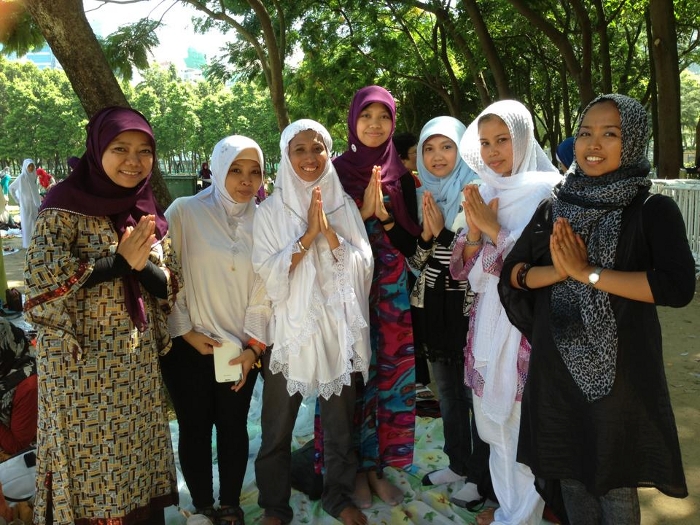 Hong Kong, 29 Ramadan 1437/05 July 2016 (MINA) – The holy month of Ramadan – when Muslims fast, focus on prayer and religious devotion – is also a time for family, to gather with loved ones and friends, and sharing iftar, the evening meal when the fast is broken.
Members of a Muslim family from Pakistan, who have spent the last 17 years in China and in Hong Kong, share their experience of spending Ramadan in this part of the world.
Mr Abdul Khaliq, a financial controller, has been working out of Pakistan for the past two decades, and has experienced Ramadan in Malaysia and China before his recent posting in the territory seven years ago.
"Since we've arrived in Hong Kong, we miss the part of family visiting families. But going for prayers is not a problem because we have so many mosques here", the 57-year-old told CNA.
He and his wife have four children, who are back in Hong Kong to observe Ramadan as a family and celebrate Eid ul-Fitr, the end of the holy month of fasting.
It's about family and food
Mrs Khaliq, a housewife, starts preparing for iftar as early as two hours before, with the help of her daughter, 24-year-old Aarzu Khaliq, who has just completed her medical degree in Guangzhou.
It is one of times of the year that Aarzu looks forward to, despite the hardship of fasting for more than 13 hours each day, because "everyone's here, we eat together, we pray together".
Iftar is a heavy meal, consisting of both sweet and savoury dishes. Must-have sweets on offer include a fruit salad with chaat masala (a savoury spice mix) and mango lassi, a traditional yoghurt drink.
As for savoury dishes, samosas filled with minced beef, pakora (sliced vegetables dipped in batter and fried), curry chicken and pilau rice are served for this occasion.
At 7.11pm, the family clock chimes adhan (the call to prayer) at sunset, and the family breaks their fast with dates, a tradition started by the Prophet Muhammad. Then they carry out maghrib (sunset) prayers, before returning to the table for their evening meal.
When in Rome, do as the Romans do
Despite the large Muslim population in Hong Kong, Eid ul-Fitr is not a public holiday. It is therefore celebrated on a smaller scale.
Only about 30,000 or so are Hong Kong Chinese and the rest comprise Pakistanis, Bangladeshis, West Africans or migrant workers  from Indonesia.
Most Muslims, like Mr Khaliq, understand why, and recognise the flexibility given to Muslims during this period.
"Employers, they've known over a period of years. They give us the opportunity (to abide by our religion). For example, I'm at the level where I still have to observe office hours; any meeting, any mandatory jobs, I will finish it, and only then will I do my Friday prayers. But it also depends on each individual. If I'm taking extra time for my Friday prayers and lunch, if I'm honest, then I must make that up," he said.
His daughter Aarzu said that she is glad to be back in Hong Kong, because while completing her studies in Guangzhou, she did not have the same freedom.
"Our university had said that you cannot openly practise anything, so there was no get-together, no student community getting together, eating together, there was nothing like that. It was me on my own or (with) my room-mate" said Ms Khaliq.
The Muslim community in Hong Kong is served by five mosques operated by the Incorporated Trustees of the Islamic Community Fund – the biggest and busiest of which is the Kowloon Masjid and Islamic Centre in Tsim Sha Tsui, welcoming up to a million visitors each year. (T/R07/R01)
Mi'raj Islamic New Agency (MINA)