ANTI-MUSLIM GROUPS TARGET ARIZONA MOSQUE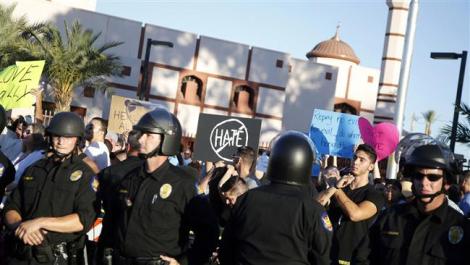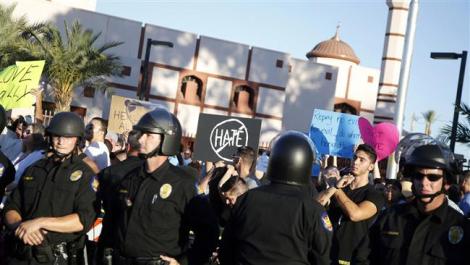 Arizona, 30 Shafar 1437/12 Desember 2015 (MINA) – More than 200 people have taken part in a rally against Islam outside a mosque in the US state of Arizona, with an equally sized crowd defending the faith.
The anti-Muslim event, which took place on Friday outside the Islamic Community Center of Phoenix, was denounced by counter-protesters shouting, "Go home, Nazis."
Among the anti-Islam protesters, more than a dozen men in military clothing carried semi-automatic weapons, Press TV reported, Saturday (12/12).
Jon Ritzheimer, a former US marine who participated in the US invasion of Iraq, said he organized the anti-Muslim protest in response to a recent shooting at an anti-Islam event in Texas.
Earlier this month, two gunmen opened fire outside the Curtis Culwell Center where an anti-Islamic group, calling itself American Freedom Defense Initiative, was staging an event that would award $10,000 for the top depiction of Prophet Mohammad (PBUH).
Usama Shami, president of the Islamic Community Center of Phoenix, said he was not surprised by Friday's event.
"This is not new, hatred, bigotry, racism — that's old. It's the same thing," he said. "No different from Nazis or neo-Nazis. They don't believe society should be multicultural or multiethnic. They think everyone should believe like them, I guess."
Todd Green, a religion professor at Luther College in Iowa who studies Islamophobia, said that the brutal acts committed by the ISIL terrorist group and other militant groups have colored many Americans' impressions of Muslims.
"Almost two-thirds of Americans don't know a Muslim," Green said. "What they know is ISIS, (and) al Qaeda." (T/P002/R04)
Mi'raj Islamic News Agency (MINA)