FIVE AL-AZHAR STUDENTS REFERRED TO EGYPT MILITARY COURT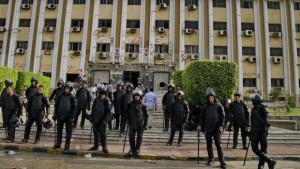 Cairo, 25 Muharam 1436/18 November 2014 (MINA) –  Five Egyptian Al-Azhar university students were referred to a military court on Sunday for allegedly torching the university following a recent controversial law expanding the powers of the military judiciary.
Cairo criminal court ruled that it lacks the jurisdiction to rule in the case, referring the defendants to military court, according to Egypt's Ahram online reports quoted by Mi'raj Islamic News Agency (MINA).
The Egyptian President Abdel-Fattah El-Sisi issued a law on 27 October giving military courts power to try those who attack government and public "vital" facilities. The law – to last for two years – also allows army forces to assist the police in guarding these sites.
The government said that schoolchildren and university students accused of sabotaging educational facilities would face military trial.
The five defendants are accused of torching a room in the engineering faculty of Al-Azhar University, in addition to rioting and belonging to a terrorist group.
Activists in Egypt have been campaigning against trying civilians in military courts.
Egypt's 2014 constitution gives military tribunals jurisdiction over crimes committed against army facilities and personnel, which caused controversy as opponents of the article insist civilians should not be subject to military trials.
Student members of the National Alliance to Support Legitimacy have been staging protests at university campuses nationwide since the start of the academic semester in October, denying the law.
Police have frequently raided universities to forcibly disperse the protests and clashes have erupted with dozens arrested, expelled or injured.(T/R04/P3)
Mi'raj Islamic News Agency (MINA)