AL – QASSAM'S ROCKETS SHAKE TEL AVIV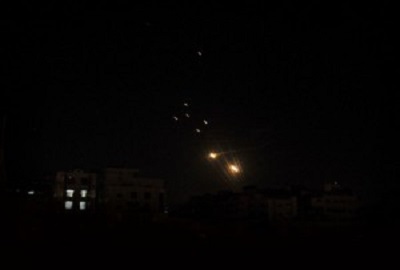 Gaza, 16 Ramadan 1435/14 July, 2014 (MINA) – Fighters of Izzudin Al-Qassam Brigades said they launched massive attacks on Tel Aviv,  early Sunday (13/7) morning of Indonesian time. They launched rockets 10 times reaching area as far as 60 km from Gaza.
Military wing of Hamas' rocket, J 80, made thousands of Israeli settlers hiding in places of refuge and hideouts. They also attacked Israeli military jeep successfully with rocket tracker in the morning, MINA's correspondent in Gaza reported.
Al-Qassam opened battle by attacking Beer Saba in eastern region of Gaza on sixth day. The attack caused Israel activating serin. Israel admitted that They hit by the attack. Fighters' rocket previously hit Ben Guriyon airport. There was no victim reported, said Mi'raj Islamic News Agency (MINA)'s correspondent in Gaza.
Palestinian fighters began launching rockets at 21:00 Gaza time. Hamas' spokesman, Abu Ubaidah called the attack as "Al-'Asf Al-Ma'ku" war. Israel claimed that they overwhelmed the attack so they fired anti-rockets (Iron Dome).
Fighters call on media to keep monitoring Palestine and advance of Al – Qasam's rockets. "We ask media directing their cameras and monitoring our rockets in the sky of Tel Aviv and also monitoring locations of landing rocket," said Al – Qasam authority.
Al-Qassam's latest rocket attack kill one Israeli man in Bayt Hanun, local media reported. (L/K01/K02/K03/Syt/E01)
Mi'raj Islamic News Agency (MINA)