AL JAZEERA AMERICA TO MARK THE YEAR ANNIVERSARY OF THE ARREST OF THEIR JOURNALISTS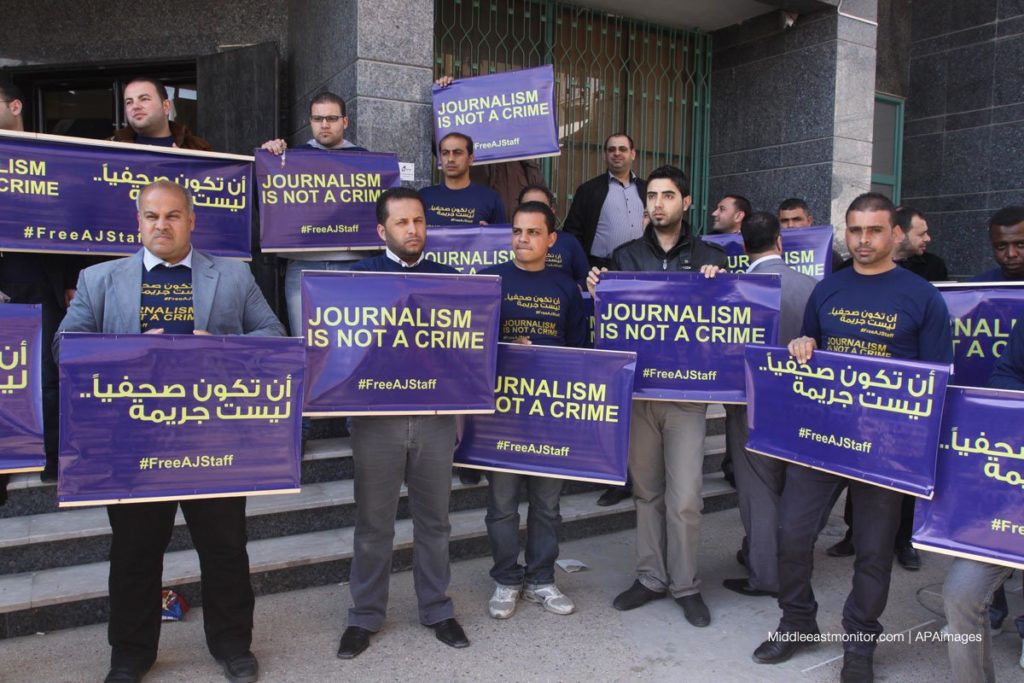 Washington, 4 Rabi'ul Awwal 1436/26 December 2014 (MINA) – Al Jazeera America will mark the one-year anniversary of the arrest and incarceration of three of the network's journalists with an hour-long special entitled "Journalism Is Not A Crime".
Australian correspondent Peter Greste, Canadian-Egyptian Bureau Chief Mohamed Fahmy and Egyptian producer Baher Mohamed were detained in Egypt a year ago on the charge of spreading false news deemed damaging to the Egyptian state, Middle East Monitor (MEMO) quoted by Mi'raj Islamic News Agency (MINA) as reporting, Thursday.
In June 2014 Mohamed and Peter were sentenced to seven years and Baher to ten years without a shred of evidence. The journalists will appeal their sentence before the Egyptian court on January 1 2015.
The special, which will be aired on the 29th December at 9pm ET with encores at midnight and 4am ET, will examine the state of journalism across the world and the increasing dangers journalists face while reporting.
Al Jazeera correspondents will discuss issues such as how the geopolitical climate has led to tougher treatment of journalists, concentrating on China, Syria, Iran and Egypt and examine personal stories of other global journalists who've experienced hostile regimes.
As the anniversary approaches, Al Jazeera America is calling on people to participate in a social media campaign aimed at showing solidarity and support for journalists who have been stifled, mistreated and detained in Egypt.
The general public are being asked to take a photo holding a sign that says, "Journalism Is Not A Crime" and then tweet it using the hashtag # FreeAJStaff and to sign an online petition.
From December 27-29, the network will solicit viewers to share posts, photos and videos to complete the phrase, "#ThisYear I would have missed FILL IN THE BLANK." They are then asked to tweet their responses to @ajam or email the photo to [email protected]
The Committee to Protect Journalists declared Egypt the third deadliest country for journalists in 2013 dozens of journalists were arbitrarily detained without charge and then released and six reporters were killed, it said. (T/P002/P3)
Mi'raj Islamic News Agency (MINA)