35 Countries Abstained 'Under Pressure' in UN Vote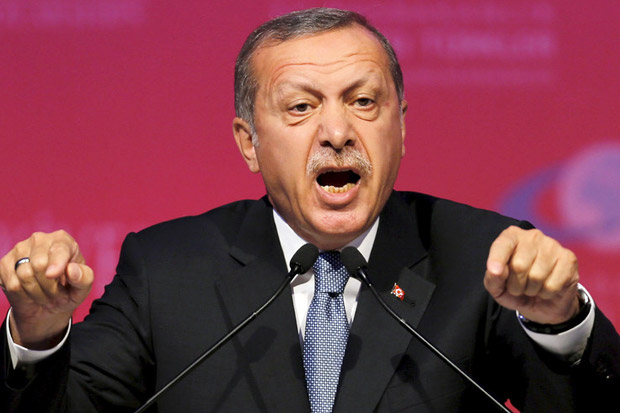 35 Countries Abstained 'Under Pressure' in UN Vote
Ankara, MINA – President Recep Tayyip Erdogan has said that the 35 countries, which abstained in the recent UN General Assembly Jerusalem vote, would have voted in favor of the resolution had they not been under pressure, Anadolu Agency reported.
The UN's 193-member General Assembly on Thursday adopted a resolution on Jerusalem by an overwhelming majority, calling on the U.S. to withdraw its recognition of the city as Israel's capital.
A total of 128 members voted in favor of the Jerusalem resolution, nine countries voted against and 35 others abstained.
Speaking in an interview with AllAfrica ahead of a three-day trip to Sudan, Chad and Tunisia, Recep Tayyip Erdogan said he believed U.S. President Donald Trump would reconsider his decision after the UN vote.
"35 countries abstained in the vote. Actually, the ones who abstained, did so under very serious pressure. Otherwise, if they had been comfortable, I believe they would have sided with the other 128 countries," Erdogan said in the interview published on Saturday.
Trump had warned that aid would be cut to those countries voting against Washington's move at the General Assembly. "They take hundreds of millions of dollars and even billions of dollars, and then they vote against us. Well, we're watching those votes. Let them vote against us. We'll save a lot. We don't care," Trump told reporters at the White House on Wednesday.
On Dec. 6, Trump officially recognized Jerusalem as Israel's capital despite worldwide opposition. The decision has sparked angry demonstrations across the Muslim world. Erdogan and other top Turkish officials have been at the international forefront opposing the U.S. move.
Erdogan reiterated that a two-state solution was necessary for peace in the Israeli-Palestinian conflict.
Jerusalem remains at the heart of the perennial Middle East conflict, with Palestinians hoping that East Jerusalem — occupied by Israel since 1967 — might eventually serve as the capital of an independent Palestinian state.
Turkey to open embassies in each African country
Erdogan said currently there were Turkish embassies in 39 African countries, adding: "We will open embassies in all of Africa".
Referring to a Turkey-Africa cooperation summit in 2008, the president said the event demonstrated Turkey's commitment to improving relations with the continent.
He said flag carrier Turkish Airlines was the most important leg in the acceleration of Turkey-Africa relations, adding the airline flew to 55 destinations in 33 African countries. (T/RS5/RS1)
Mi'raj Islamic News Agency (MINA)