Western Nations Warn Russia over Ukraine Clash Near Crimea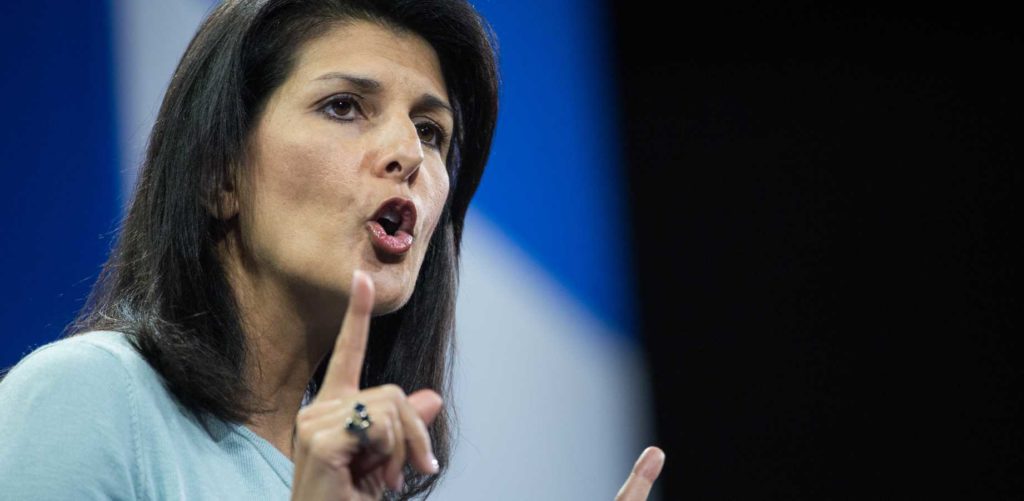 New York/Kiev, MINA — The US warned Russia on Monday over what it called an "outrageous violation" of Ukraine's sovereignty after Moscow shot at and seized three Ukrainian naval vessels near the disputed Crimea region, DPA reported.
The comments from US Ambassador to the UN Nikki Haley came as diplomats at the UN Security Council and NATO discussed the escalation of tensions between the two countries on Monday.
Haley said during an emergency UN Security Council meeting that Russia's repeated "outlaw actions" are making it impossible for US President Donald Trump to develop a normal relationship with Moscow.
Secretary of State Mike Pompeo condemned Russia's "aggressive" actions and called on Russia to respect Ukraine's sovereignty and return the vessels and detained crew members.
Trump told reporters he was "not happy" about renewed tensions between Russia and Ukraine.
Britain, France, Germany and five other European nations at the UN also issued a statement calling for de-escalation, and reaffirming their recognition of Ukraine's borders.
Britain's UN envoy Jonathan Allen indicated Russia was trying to legitimize its occupation of Crimea, which much of the international community does not recognize, by accusing Ukraine of violating Moscow's borders during the clash.
"Russia must not be allowed to rewrite history by establishing new realities on the ground," Allen said.
Ukraine's UN ambassador Volodymyr Yelchenko said Kiev would seek to tighten economic sanctions against Russia and target the individuals involved with personal sanctions, including by freezing their bank accounts.
Ukraina declares martial law
Ukrainian President Petro Poroshenko declared martial law for 30 days beginning Wednesday in reaction to the incident. The Ukrainian parliament later approved the measure, which applies to the area of Ukraine bordering Russia and the Black Sea coast.
Ukrainian military personnel were "brutally detained in violation of international law," Poroshenko told a meeting of the national security council.
Russian authorities must "immediately transfer them to the Ukrainian side along with the ships and ensure de-escalation of the situation," Poroshenko said in comments published on his website.
In response to the flare-up, Ukraine's Defence Ministry put the military on combat alert.
Russia's top diplomat, Sergei Lavrov, justified Russia's actions as a reaction to a "provocation" near its border whereby the Ukrainian navy had violated Russia's sovereignty.
Ukraine's "Western sponsors" should intervene to diffuse the situation, Lavrov said in comments carried by state media.
In separate comments, he warned of the potential for crossing a "point of no return" between Russia and the West.
Meanwhile, German Chancellor Angela Merkel expressed concern about the situation in a call with Poroshenko.
During a meeting of political directors from Germany, France, Russia and Ukraine – the so-called Normandy format – at the German Foreign Office, Berlin and Paris jointly called for concrete measures towards de-escalation to be undertaken.
NATO called for Russia to immediately release the Ukrainian soldiers and ships, and said there was "no justification" for Moscow's use of military force.
"This incident is a reminder that there is a war going on in Ukraine," NATO Secretary General Jens Stoltenberg said. "Russia has to understand that its actions have consequences."
Russia annexed Crimea, a peninsula connected to mainland Ukraine, in March 2014 in response to Ukraine ousting its Russia-friendly president in a pivot towards the West that brought Poroshenko to power.
A pro-Russian separatist rebellion meanwhile erupted in Ukraine's two eastern-most regions on the Russian border. Ukraine accuses Russia of directly fuelling that conflict. Russia denies such allegations.
More than 10,000 people have been killed in the conflict, according to estimates by the United Nations.    (T//RS5'RS1)
 Mi;raj Islamic News Agency (MINA)