UNRWA Staff on Strike over Service Cuts on Palestinian Refugees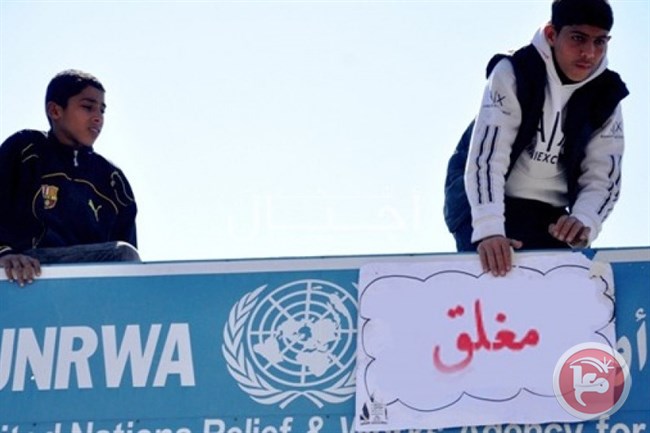 Gaza, MINA — Staff of the United Nations Relief and Work Agency (UNRWA) held a general strike Monday in the Gaza Strip to protest the sacking of its employees and reduction of its humanitarian services.
The agency, aimed at providing services to Palestinian refugees, has been caught in a significant fiscal deficit, after the United States decided to halt its financial aid to the agency.
Around 13,000 UNRWA employees and workers stopped working on Monday at all education, health and services centers and departments, while the emergency department maintained operation.
In the morning, banners were seen on the gates of various UNRWA institutions reading "a general strike to protest the firing of UNRWA employees and reduction of its many programs."
Yousef Hamdouna, secretary general of UNRWA's Union of Employees, told Xinhua that the strike is a right of the UNRWA staff to denounce the unfair decisions against the UNRWA employees.
"Resorting to the strike is a warning message about the great danger that threatens the staff of UNRWA," he said.
He went on saying that the strike is "a refusal to the UNRWA administration's policy of resolving the financial crisis at the expense of Palestinian refugees and employees."
Feel insecure
Meanwhile, Mohamed Ba'lousha, a UNRWA teacher, told Xinhua that the employees of the agency feel "insecure" due to the financial crisis following the suspension of U.S. funding.
"We are afraid and deeply concerned over our future and the fate of our families," said the teacher, calling on the Arab states and the UN to provide adequate financial budgets for the continuation of UNRWA's full services.
Monday's general strike followed a large demonstration in Gaza Wednesday, which was organized by the Employees' Union in protest over UNRWA's service cuts.
International and Arab donors will meet in New York on the sidelines of the UN General Assembly meetings to discuss UNRWA's financial crisis.
Adnan Abu Hasna, a media advisor of UNRWA in Gaza, told reporters that the donors' meeting in New York will be attended by various donors, including EU countries.
"This meeting is so important and UNRWA seeks to get new financial pledges to overcome the difficulties that the agency is going through after the United States cut all its financial donations to it," he said.
The United States had been supporting UNRWA with 360 million U.S. dollars every year, but announced to cut all funding for the Palestinian relief agency last month.
UNRWA said the cut of U.S. support has led to a budget deficit of 446 million U.S. dollars.
The agency opened its schools a few days ago and has no financial funding until the end of this month.
The agency was established by a resolution of the UN General Assembly in 1949, and provides services to about five million registered Palestinian refugees in its five regions, namely Jordan, Syria, Lebanon, the West Bank and the Gaza (T/RS5/RS1)
Mi'raj Islamic News Agency (MINA)