TURKEY URGES UN TO ACT OVER CHLORINE GAS USE IN SYRIA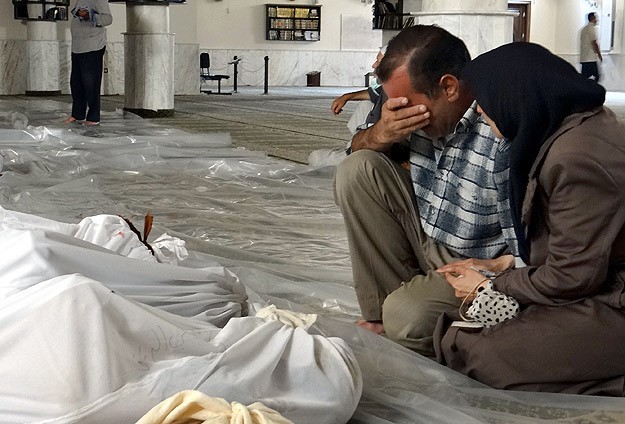 Ankara, 20 Dzulqa'dah 1435/15 September 2014 (MINA) – Turkey has called on the United Nations to take action over the "systematic and repeated" use of chlorine gas in Syria.
The Organization for the Prohibition of Chemical Weapons said in its latest report that its team had collected "compelling evidence" that the toxic chemical was used "systematically and repeatedly" in Talmanes, Al Tamanah and Kafr Zet, three villages in northern Syria, Anadolu Agency quoted by Mi'raj Islamic News Agency (MINA) as reporting.
Urging the UN Security Council to take action, Turkey's foreign ministry said in statement on Sunday: "The use of chlorine gas by the Syrian regime once again reveals the threat it poses to regional and international peace and stability."
Some days earlier, U.K. Foreign Secretary Philip Hammond has condemned Syria for its alleged use of chlorine after that report.
Hammond said Wednesday the findings "corroborate allegations that the Assad regime is continuing to use chemical weapons in Syria, in violation of the Chemical Weapons Convention."
The chemical watchdog's report on chlorine use does not apportion blame on any side fighting in the three and a half year civil war in Syria.
Hammond said: "The systematic and repeated use of chlorine in northern Syria and the consistent reports from witnesses of the presence of helicopters at the times of the attacks leave little doubt as to the Assad regime's culpability."
He said that the Assad regime's "atrocities" against the people of Syria were an "outrage."
"The regime's horrific attacks on its own civilians with chemical as well as conventional weapons further highlight Assad's disregard for international legal obligations, human rights and basic humanity," said the foreign secretary.
Hammond said that the United Nations "must consider" the report's findings and that the U.K. was consulting with its international partners on the best course of action.
Syria has been gripped by a civil war since March 2011 that has claimed more than 190,000 lives, according to the U.N., displacing half of the population.
Nearly 97 percent of Syria's declared 1,300 tons of chemical weapons have been destroyed, the OPCW announced. The organization's chairman, Ahmet Uzumcu told The Anadolu Agency on Wednesday that the destruction of the entire arsenal of chemical weapons would be over in the upcoming days.
In August 2013, a chemical weapons attack in suburban Damascus killed nearly 1,500 people, prompting the international community to seek sanctions against the regime which it largely held responsible for the attack.
A deal between the U.S. and Russia last September averted a possible U.S. strike on Syria at the last minute, instead launching the process of destroying Syria's chemical weapons stockpiles. The process was presumed to end mid-2014, but a number of delays meant that the shipment of the entire declared arsenal was not complete until late June. (T/P001/P3)
Mi'raj Islamic News Agency (MINA)