Thousands of Palestinians Attend "Great Dawn" at Al-Aqsa Mosque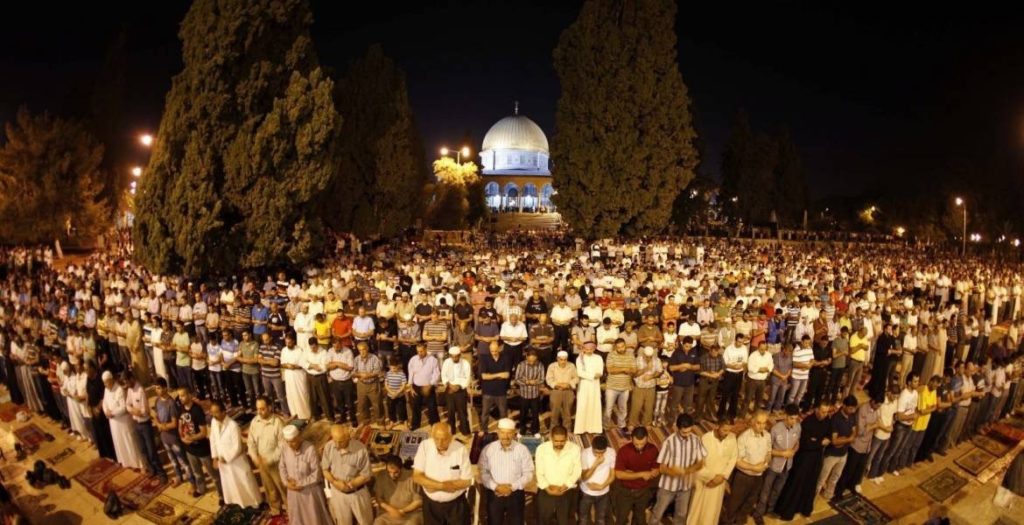 Jerusalem, MINA – Thousands of Palestinian worshipers answered the call of the Great Dawn in the blessed Al-Aqsa Mosque at dawn today, Friday, which came this week under the slogan "Jerusalem Is Ours."
A large number of Palestinian citizens, especially those from Jerusalem and the occupied interior, prayed in the mosque, MINA's Contributor in Palestine reports.
This mobilization comes to confirm the permanent presence of Palestinian and their defense of Al-Aqsa Mosque and that Jerusalem will not be for the occupation.
Hamas spokesman for the city of Jerusalem, Muhammad Hamadeh, saluted the steadfast people of Al-Aqsap Mosque and the occupied interior, who attended the blessed Al-Aqsa Mosque today and performed the dawn prayer there.
Hamadeh stressed that the Palestinians will not leave Al-Aqsa Mosque alone, as Jerusalem is theirs and Al-Aqsa is theirs, and the occupation has nothing to do with it.
He added that preparations are in place for defending the Al-Aqsa Mosque, in response to threats of Israeli settlers to storm the mosque again.
Calls continue for Palestinian citizens to intensify their presence in Al-Aqsa Mosque, to confirm their adherence to their right to the mosque and to thwart the occupation schemes of Judaizing Al-Aqsa.
It's noteworthy that last month of Ramadan and this month witnessed an escalation of the occupation's violations against the blessed Al-Aqsa Mosque, during which the Palestinians confronted the incursions and attacks of the occupation and its settlers, during which hundreds were injured and arrested.
The "Great Dawn" campaign turned into a weekly religious and political demonstration in the blessed Al-Aqsa Mosque, by naming each Friday a specific name that refers to one of the issues facing occupied Jerusalem and Al-Aqsa Mosque. (LKG/RE1)
Mi'raj News Agency (MINA)