Thousand Hundreds Indonesian Protest Againts US Policy on Jerusalem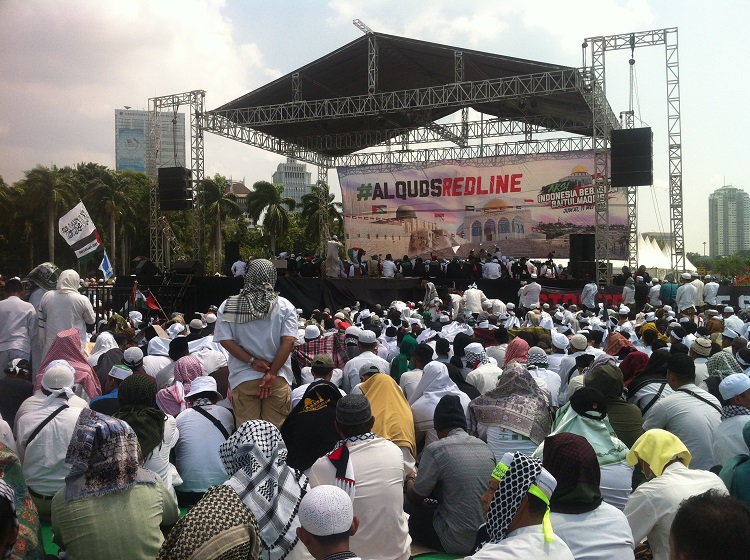 Jakarta, MINA – At least hundreds of thousand of Indonesian people acrross the country gathered on Friday in the center of Jakarta's National Monument to express their anger againts US plan to move its embassy for Israel this month.
The protest called "the 115 Action" referred to the date of May 11, 2018 as part of the second biggest support rally for Palestine in the country.
Since Thursday night, people has already come to the biggest Istilqlal Mosque in Center Jakarta. Most of Indonesian from furhter island spend night at the place. Some nearby cities arrived in the capital city on the Friday morning before they all walked to the Monument and held Friday mass prayer in the ground.
The prayer was led by Imam of Al-Azhar Mosque H Mukhtar Ibnu after the call to prayer led by Serka H Yusa Ismail, while around 11.51 WIB the sermon delivered by KH Didin Hafiduddhin.
The prayer was also followed by Vice Chairman of the MPR Hidayat Nur Wahid, Jakarta Governor Anies Baswedan, Chairman of the Indonesian Coalition for Baitul Maqdis Bachtiar Nasir, Chairman of the Islamic Defenders Front (FPI) Ahmad Sobri, Wahdah Islamiyah Leader Ustadz Zaitun Rasmin, Walker Action 212 Nonop Hanafi, as well as other Islamic figures and scholars. Not only that, Palestinian delegation of Al-Quds Committee Chairman of the International Muslim Scholars' Association Sheikh Ahmad Umar El-Umary also attended the event.
In his speech, Jakarta Governor Anies Baswedan stressed Indonesian support for Palestine never gets old.
"Seventy-three years, Indonesia is always here to help the Palestinian freedom. We never subsided in fighting for Palestinian independence," he told the mass.
Meanwhile, the committee cordinator, Bachtiar Nasir blamed the US government for violating international resolution on Jerusalem.
"Trump and its allies have pushed themselves to be the triggers of world-level horizontal conflict and have stepped on peace resolutions already agreed even by the UN General Assembly's nine resolutions," he said. (LT/R04/P2)
Miraj News Agency (MINA)