TENSIONS RISE BETWEEN ISRAELI ARMY AND SHIN BET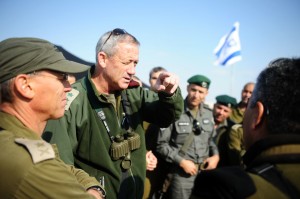 Tel Aviv, 23 Muharam 1436/16 November 2014 (MINA) –  Tensions have escalated between the Israeli army and the Shin Bet security service after it was revealed yesterday evening that former Shin Bet chief, Yoram Cohen, sent a letter warning of Hamas' intention "to wage war on Israel", which allegedly was not taken seriously by the army.
Israeli Army Chief of Staff Benny Gantz sent a letter to Israeli Prime Minister Benjamin Netanyahu complaining about Cohen and warning of rising tensions and a lack of confidence ine each other, Middle East Monitor quoted by Mi'raj Islamic News Agency (MINA) as reporting.
Cohen responded by issuing a statement to Channel 10, in which he accused Gantz of speaking to the prime minister with "unnecessarily harsh language".
The crisis arose between the two sides after Israel's Channel 2 broadcast a programme at the beginning of this week in which three Shin Bet leaders said that they gave the army warnings about Hamas' intentions and that they have been doing so since the beginning of the current year. Israeli military leaders categorically deny this claim.
Since the broadcast, Cohen wrote a letter describing the Israeli army as "being blatantly harsh in their treatment of Shin Bet officers".
In his statements to Channel 2, Cohen said: "These statements are accurate and reflect the reality of the sequence of events. All information uttered by our officers on television is reliable and supported by factual documents. We are committed to our understanding of professional integrity and we continue to do our work despite the hardships that we have experienced in the previous years."(T/R04/R03)
Mi'raj Islamic News Agency (MINA)