South Sudan: Record Number of People Face Severe Hunger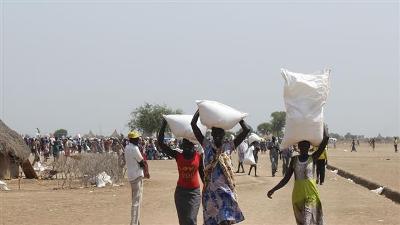 Juba, MINA  – A record number of almost seven million people in South Sudan – or more than 60 percent of its population – are facing severe hunger, according to a new report by the government and three United Nations agencies.
The warning on Friday (6/13) came some nine months after a fragile peace deal between South Sudan's warring sides ended a ruinous five-year civil conflict, Al Jazeera reported.
The report said close to two million people were near starvation, but stopped short of declaring a famine.
The worsening situation was attributed to food shortages exacerbated by delayed rainfall, an economic crisis and years of strain from a conflict that killed almost 400,000 people.
"Every year, hunger reaches new and unprecedented levels in South Sudan with millions of people unsure where their next meal will come from, particularly at this time of the year when hunger peaks from May to July," Hsiao-Wei Lee, of the World Food Programme (WFP), said in the capital, Juba.
UN-backed assessments used a ranking called the Integrated Food Security Phase Classification (IPC), which rates hunger levels from one to five.
The WFP, the Food and Agriculture Organization (FAO) and the UN children's fund (UNICEF) said about 1.8 million people in South Sudan were in an "emergency", or level four, which means large gaps between meals, acute malnutrition and excess deaths.
More than five million others were also having to skip meals. At the beginning of 2019, it was estimated that 6.1 million people were facing hunger. But this figure now stands at 6.9 million people – about 61 percent of the population.
Under the IPC system, level five is classified as "catastrophe", and when it applies to 20 percent of the population is deemed a famine.
South Sudan declared a "man-made" famine in 2017. (T/RI-1/P2)
Mi'raj News Agency (MINA)