Settlers Defile Aqsa Mosque Under Police Escort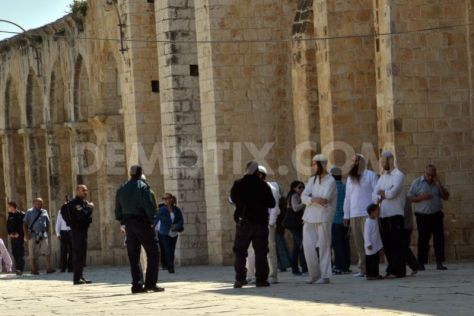 Jews storm al Aqsa Mosque with police escort.
Occupied Jerusalem, MINA – Scores of Jewish settlers on Sunday morning desecrated the Aqsa Mosque's courtyards under tight police protection.
About 25 settlers escorted by police officers entered the Mosque through al-Maghariba Gate and toured the holy site, the Palestinian Information Center (PIC) reported.
Israeli police restricted the entry of the Aqsa Mosque guards and employees and searched them before allowing them in, affirming that the police arrested Ra'ed al-Zaghir, one of the officials in charge of the Mosque.
In a related context, hardline Knesset member and rabbi Yehuda Glick announced that he and more than 150 Jews would ascend to what he called the temple mount (Aqsa Mosque) in the coming hours.
Other notorious rabbis from different West Bank settlements also intend to defile the Mosque today, according to the PIC reporter.(T/R04/RS%)
Mi'raj Islamic News Agency (MINA)