Saudi Minister of Hajj Receives Indonesian Ambassador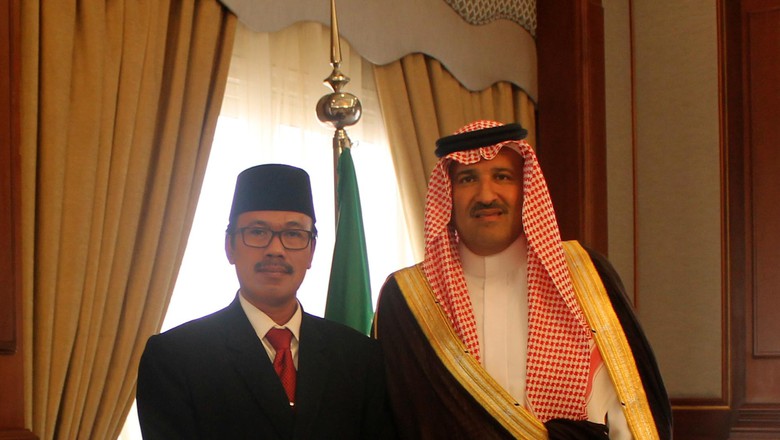 Ambassador Agus Maftuh Abi Jibreel (L) with the governor of Medina..
Riyadh, 07 Rabi'ul Awwal 1438/07 December 2016 (MINA) – Saudi Minister of Hajj and Umrah Dr. Mohammed Saleh bin Taher Bentin received at his office in Riyadh Tuesday Indonesian ambassador to the Kingdom Agos Maftouh Abi Jebreel.
According to SPA, they exchanged cordial talks and discussed issues relating to Indonesian pilgrims, Umrah performers and visitors of the Prophet (pbuh) mosque.
For his part, the ambassador lauded the unprecedented success of last year's Hajj season, thanks to the efforts being exerted by the government of the Custodian of the Two Holy Mosques to make the Hajj journey a comfortable and pleasant one, praising the great services and good organization offered by the Ministry of Hajj and Umrah and other agencies of the government of the Custodian of the Two Holy Mosques for pilgrims coming from all over the world.
The General Authority for Statistics in Saudi Arabia said that this year's Hajj Season has seen a total of 1,862,909 pilgrims, of whom 1,325,372 pilgrims came from outside Saudi Arabia, while the total pilgrims inside totaled 537,537 pilgrims.
The total non-Saudi pilgrims numbered 1,692,417 pilgrims, while the total Saudi pilgrims reached 170,492 pilgrims. (T/R07/R01)
Mi'raj Islamic News Agency (MINA)