Respecting Peace for Sustainable Environment in the Regions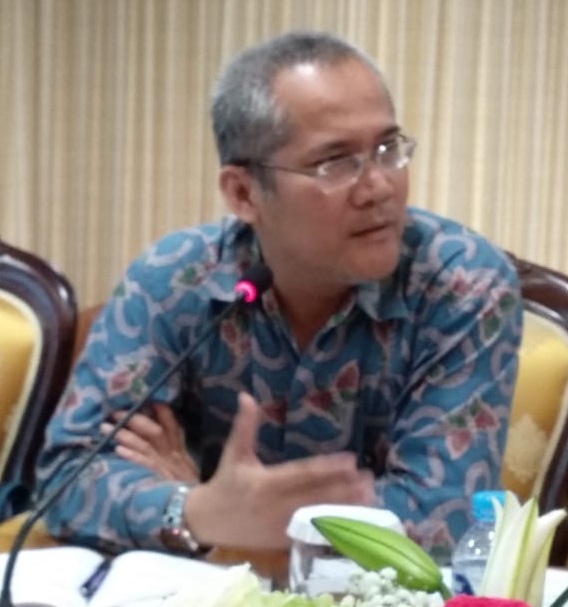 By: Moehammad Amar Ma'ruf, Charge d'affaires of the Embassy of the Republic of Indonesia in Tripoli-Libya
It is a part of miracle of Almighty God creating universe on many form of landscapes and climates. The miracle that sometimes hide in silence and modesty. Silence and modesty store many specialities and uniquesness. These characters are inherited and described in any kind of God Almighty creation that deserved to be maintained by open society for benefit of all living things.
One of the existing miracles can be found in the region of Mediterranean. The Mediterranean is famous with their natural beauty, including unexplored and explored exotic flora and fauna living and growing in the region. Many specific and species of plants grow in the region. Among of the plants are miracle plant of zaitun/olive, Tin and Argan. These plants are living side by side with the local lives in many aspects ranging from domestic to industrial affairs. How important of these plants also found in the Holy Book that brought by God's Messenger to the Universe.
The specialties of Mediterranean also offering curing climates and environment that are being needed for human life. The meeting of air current from European and African continent and also from the Atlantic with sufficient light of sun and modest air in its period contributes to the natural refreshment and character of air those filtering poisonous substances that may endanger breath system of human breath organ and skin. These clues then are referred by any other scientists and other stakeholders to explore more. It is also suggested by scientist to take a breath in the morning usually bada (after) shubuh and swim in the afternoon will give good medication such as curing Sinus, especially in summer.
Living in such a beautiful and full of bless of this region is a barokah for all living things, especially for human being that need sustainable way of life. Therefore it deserves to be thanked and used for mutually beneficial interaction among living things. This pattern of life should be maintained.
The natural beauty of Mediterranean has attracted many peoples surrounding visiting this region. It makes region becoming a melting pot cultures and traditions. In these aspects, full and variety of civilization can also be found. The interaction that may bring good example to each other's and throw away egoistic elements that may naturally exist by respecting to each other as the creation of God Almighty. This is the way that Mediterranean character stand for which other regions should be kept as well its tranquility and tolerance for all living things.
Other interesting situation in Mediterranean is this region is formed as a bridging (not separating) among continents. This situation will give easiness to all visitors to study more and more regarding its natural resources of Mediterranean environment without neglecting existing rules and traditions.
In the history of human contact, Mediterranean cannot be separated with the race of human civilization that brings many influences to environment. These influences may affect natural and originality of region. In this context, the picture of Mediterranean life is begun to disrupt. This race challenge noble values that exist in this region. But, then unsustainable way of life will end automatically with the emergence of conscience on how important to live side by side in harmony should be established. The sustainability aspects are very strong inherited in this region. These aspects deserve to be celebrated by all living things. It needs open and fair behavior of life for all living things to adapt with its moderation.
Much offensive action to moderation of Mediterranean region will bring disaster for living things. The region needs to be respected and well-maintained. These values are seen from the way of local peoples in doing their daily activities. They try to make balance with every outsider that may not yet familiar with this region. They are open in explaining politely their surroundings to them who come to be closed with nature. It seems they try to express inner voice of moderation to all outsiders for not making destruction.
What a fortunate gift for peoples who are be able to grasp this priceless message which in fact difficult to be understood by unfamiliar mind and feelings. Contradictive behavior will bring more uneasiness for their own life that could affect others. Many camouflage based on unilateral benefit orientation will harden social interaction with their natural environment that contain much higher noble values. The natural way has given more lessons through their charm and originality that Almighty God has provided.
Trying to realize this situation, as Indonesian Diplomat who being sent in this region to represent its country believes that miracle of this region depicting many good lessons to be exchanged and promoted. Indonesia is well-known as Archipelagic states that contain many aspects of local wisdom. Indonesian President, HE Joko Widodo and his aide under coordination of Ministry of Foreign Affairs, open to be partner bilaterally, regionally and multilaterally to support peace and welfare for both. Libya and Indonesia have traditional relations since the Asia Africa Conference or well known as Bandung Conference was held in 1955. Both countries have share many common views on creating welfare and justice for all. Indonesia feels sympathy to All Libyan on Libya situation today. Indonesia peoples pray that in chaa Allah Libya will find solution of its conflict that benefit for all Libyan.
Indonesia as Archipelagic State and Libya as a part of Mediterranean and African country are part of globe that may share their best practices not only for the good of region but also for good of surrounding continent. Both regions have many potential to be explored and be developed for benefit for all. These aspects seem complementary. Even though, it is surely not easy task to begin without any introduction and stable communication to each other's, especially in the new era of technology. This development should bring much contribution to the level of welfare of the peoples of the region. In this regards, other countries in this region must also help to each other's.
The process of complementarity must be prepared with their respective best model and practices with moderation. No such approach will be truly in lining with sustainability without respecting local wisdom and sharing best practices to each other's.
The step may be begun with reminding to each other's that actually these regions are interconnected with global human civilization that coloring diversified culture of the world. The interactions that give positive impacts to surrounding should be imitated, maintained and developed.
The issue that may not be forgotten for all is our existing differences on many aspects must be considered as Rahmatan/barokah for all. Even for other third sides that may be considered to settle in this region. To grasp these values, modesty should prevail. Then, modesty will bring back many good things for all.
I personally hope and open to bridge and develop good values that inherited in our respective regions for better life for today and tomorrow. We are all human being and we are all God creation that being given task by the Creator of Universe to share ability (knowledge, skill, technology) and cooperate for good that respect humanity and sustainable environment as the basic chain of people's interactions.
We should believe that human being is the best creation of God Almighty completed by feeling, mind and intention strength to keep sustainability of between peoples and environment. Let us respect peace and hand in hand to make our regions become festive for good in all aspects of life. May the Almighty God always guide us to right path. Aaameen Ya Robbal Alameen.(AK/R01/P2)
Mi'raj News Agency (MINA)