QATAR CHARITY SPENT QR322M ON SYRIA RELIEF PACKAGES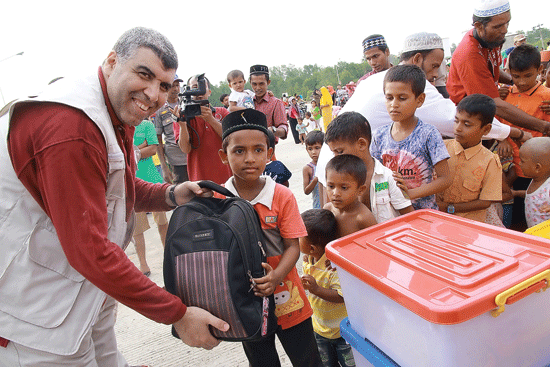 Doha,  12 Muharram 1437/25 October 2015 (MINA) – Qatar Charity spent QR322m on relief packages for more than six million people displaced inside Syria and refugees in neighbouring countries during the last four and half years.
A total of 6,083,517 people affected by the war in Syria benefitted from the humanitarian aid provided by Qatar Charity from April 2011 to September 2015.
More than 67 percent of the total aid (QR213.06m) was disbursed inside Syria to provide basic needs to displaced people, The Peninsula quoted by Mi'raj Islamic News Agency (MINA) as reporting.
The remaining amount was used for refugees sheltered in neighbouring countries.
More than QR58.27m was spent on refugees in Lebanon, QR26.88m in Jordan and QR19m in Turkey. Refugees in Iraq and other countries received QR4.5m.
More than QR120.21m was spent to provide shelters and over QR102.56m on food. Health care and education projects cost over QR68.21m and QR30.75m respectively. Qatar Charity dispatched caravans carrying foodstuff inside Syria.
In addition, basic ration materials were also distributed. It has also financed projects for cultivating potato and cereal. Portable bakeries with a capacity of 60,000 breads per day were set up inside Syria for the displaced.
The project cost for installation and operation was QR3m for six months. Food projects cost a total QR102,561,000, benefitting over 2,991,000 people.
Some 2,500 residential units are being constructed along Syria,Turkey border. (T/Imt/R04)
Mi'raj Islamic News Agency (MINA)