PALESTINIANS RALLY IN JERUSALEM TO WELCOME RAMADAN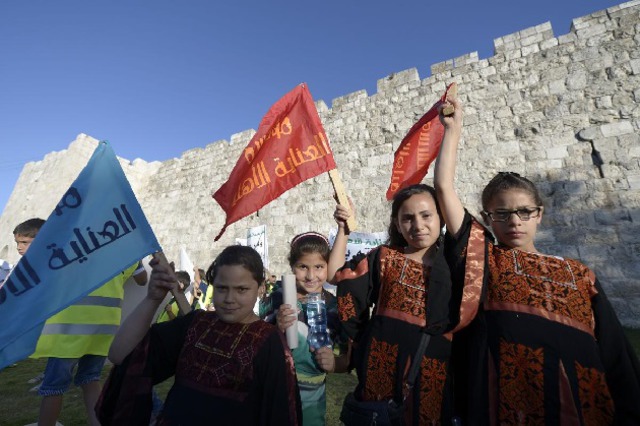 East Jerusalem, 29 Sha'ban 1435/27 June 2014 (MINA) – Palestinians marched on streets of East Jerusalem in traditional clothes late on Thursday in a festival to welcome the Muslim holy month of Ramadan, when the faithful abstain from food and drink from dawn to dusk.
"We organized this march to give positive energy to the people, make them feel alive again," Siham Bahri, a Palestinian teacher, told Anadolu Agency.
Dozens of Palestinian Muslims attended the ceremony to mark the upcoming fasting month, marching from Salah ad-Din Street to the Damascus gate, World Bulletin quoted by Mi'raj Islamic News Agency (MINA) as reporting.
Participants carried banners reading "God Bless Our Jerusalem, Show Respect Your Elderly, Love Your Children," as they walked and sing traditional songs.
A male dancer performed in a long colorful skirt at Damascus Gate, whirling among the dozens of cheering children.
The start of Ramadan, the month in which the Holy Quran was revealed, is expected to be announced on Friday according to the moon sighting.
Anna Natch, one of the organizers and member of Ahy Al-Quds Club, said the purpose of the march is to show to the Israeli that Jerusalem is the land of Muslims.
"We are the real residents of Jerusalem even though the Jewish people claim the opposite," said Natch.
He said every Ramadan, Palestinians feel sadder due to "increasing restrictions imposed on them and ongoing occupation by Israel."
In recent years, Israeli authorities have imposed restrictions on the entry of Palestinians into the Al-Aqsa Mosque, which for Muslims represent the world's third holiest site.
An Israeli general said last week that the Israeli army planned to ratchet up restrictions on Palestinians during the Muslim fasting month of Ramadan.
"Ramadan 2014 will not be like Ramadans in previous years," Yoav Mordechai, who heads the branch of the Israeli army tasked with running Palestinian civil affairs, was quoted as saying by The Times of Israel news portal.
Tension has been running high in East Jerusalem due to Israeli campaign to "Judaize" the city and its iconic Al-Aqsa Mosque, which for Muslims represents world's third holiest site.
Jews refer to the Al-Aqsa Mosque complex as the "Temple Mount," claiming it was the site of two prominent Jewish temples in ancient times.
Israel occupied East Jerusalem during the 1967 Middle East War. It later annexed the holy city in 1980 – a move never recognized by the international community – claiming it as the capital of the self-proclaimed Jewish state.(T/P03/E01)
Mi'raj Islamic News Agency (MINA)