Palestinians Pray at Al-Aqsa for 2nd Friday Of Ramadan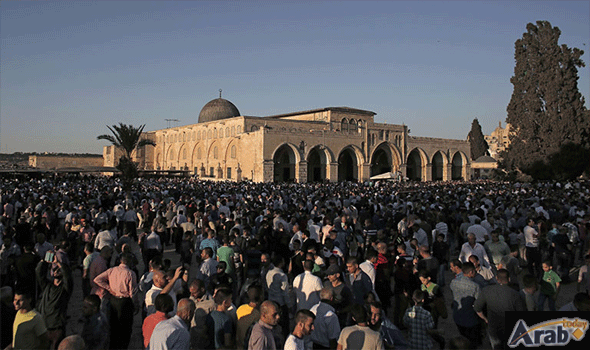 Al-Quds, 13 Ramadan 1437/18 June 2016 (MINA) – Thousands of Muslims from the Israeli-occupied West Bank and East Jerusalem converged on the Al-Aqsa Mosque compound today to pray on the second Friday of Ramadan, the Muslim fasting month.
Only men over 45 and children under 12 — along with women of all ages — were allowed by the Israeli army to enter occupied East Jerusalem without entry permits, Anadolu Agency reported.
The Israeli authorities, meanwhile, stepped up security around the flashpoint religious site, deploying more than 3,500 policemen and erecting roadblocks at the entrances of Jerusalem's Old City.
They also deployed a helicopter and a surveillance blimp to monitor the situation in and around the mosque compound.
Salem al-Natsheh, a 53-year-old resident of the West Bank city of Hebron, told Anadolu Agency: "It's the second time for me to pray at Al-Aqsa this Ramadan; it takes more than six hours to enter Jerusalem due to Israeli security measures."
Rokaya Orabi, 33, from the West Bank city of Ramallah, said she had only been allowed to enter Jerusalem after having been searched by Israeli soldiers.
"My three children were also subject to Israeli security measures," Orabi told Anadolu Agency, adding that she had also been accompanied to Al-Aqsa by her eight-year-old grandson, "who is seeing Jerusalem for the first time in his life".
Sheikh Azzam al-Khatib, the Palestinian director-general of the Authority for Religious Endowments and Al-Aqsa Affairs, told Anadolu Agency that around 200,000 worshipers had turned out to pray at Al-Aqsa for the second Friday of Ramadan.
"We're expecting at least 150,000 worshipers at Al-Aqsa for iftar [the Ramadan fast-breaking meal] and Taraweeh prayers," he said.
Some 200 residents of the blockaded Gaza Strip — all over 60 years old — were also allowed to enter Jerusalem on Friday, after having been barred last week in response to a shooting attack in Tel Aviv that left four Israelis dead.
"I set out from the Gaza Strip with my husband at dawn," Amena Abu al-Eaish, a 66-year-old resident of Gaza City told Anadolu Agency.
"I plan to perform Friday prayers at the Al-Aqsa Mosque and spend the rest of the day there reading Quran," she said.
Israel occupied East Jerusalem and the West Bank during the 1967 Middle East War. It later annexed the city in 1980, claiming it as the unified capital of the self-proclaimed Jewish state — a move never recognized by the international community.
International law views the West Bank and East Jerusalem as occupied territories, considering all Jewish settlement building on the land to be illegal. (T/P002/R04)
Mi'raj Islamic News Agency (MINA)