PALESTINIAN LAWMAKER SENTENCED TO SIX MONTHS IN ISRAELI JAILS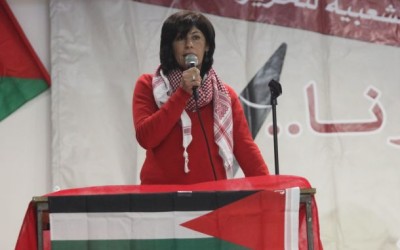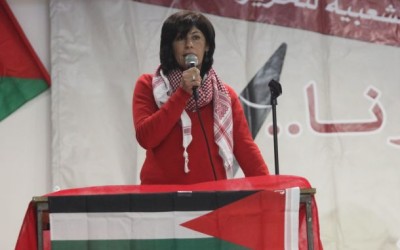 Ramallah, 19 Jumadil Akhir 1436/8 April 2015 (MINA) – An Israeli court has sentenced member of the Palestinian Legislative Council Khalida Jarrar, of the People's Front for the Liberation of Palestine (PFLP), to a six-month administrative detention, Addameer Prisoner Support and Human Rights Association.
The final order will be confirmed on April 8, said Mahmoud Hassan, lawyer with Addameer and director of its Legal Unit, WAFA Palestinian News Agency quoted by Mi'raj Islamic Nedws Agency (MINA) as reporting.
Jarrar was arrested on April 2 when an Israeli army force, comprising of about 60 soldiers and intelligence officers, stormed and ransacked her home in Ramallah at midnight.
Local media reported that forces surrounded Jarrar's home in Ramallah neighborhood of al-Irsal broke into her family home. Soldiers confiscated two computers and a mobile phone.
Jarrar's daughter, Yaffa, was quoted as saying that her mother was detained because she is a leader of a 'terrorist organization' that has been 'encouraging terror activities' over the past few weeks.
As Yaffa reported, Jarrar refused to speak or eat at all while she was held at Ofer under interrogation before being transferred to HaSharon prison.
The Palestine Liberation Organization denounced the move and called Jarrar's detention as "illegal". Last year, the military confined Jarrar's movement to the city of Jericho and its surroundings for about two weeks.
Jarrar is the former Executive Director of Addameer and Vice President of its Board of Directors, as well as the chair of the Palestinian Legislative Council Prisoners' Committee and a member of the Palestinian national follow-up committee for the International Criminal Court.
Since the beginning of March 2015, the Palestinian Prisoner's Club (PPC) reported that the Israeli authorities have issued administrative detention orders against 42 Palestinian prisoners. By the end of March, over 121 Palestinians were sentenced between three – Six months in prison under administrative detention.
Administrative detention is the imprisonment of Palestinians without charge or trial and on the basis of secret evidence for up to six month periods, indefinitely renewable by Israeli military courts.
The use of administrative detention dates from the "emergency laws" of the British colonial era in Palestine, said the Palestinian Prisoner Solidarity Network.
It stated, "Israel's use of administrative detention violates international law; such detention is allowed only in individual circumstances that are exceptionally compelling for "imperative reasons of security."
Israel uses administrative detention routinely as a form of collective punishment and mass detention of Palestinians, and frequently uses administrative detention when it fails to obtain confessions in interrogations of Palestinian detainees.
According to the international law, administrative detention can be used only in the most exceptional cases, as the last means available to preventing danger that cannot be thwarted by less harmful means. Yet Israel uses this form of collective punishment systematically.
There are around 500 detainees serving administrative detention in several Israeli jails. Jarrar is not the only lawmaker to be imprisoned; 18 of the Palestinian Legislative Council members are currently held in Israeli detention without charge or trial.
Palestinian detainees have continuously resorted to open-ended hunger strikes as a way to protest their illegal administrative detention and to demand an end to this policy which violates international law.(T/R05/P3)
Mi'raj Islamic News Agency (MINA)