Palestine Solidarity Action, Ambassador: Israel Will Be Lost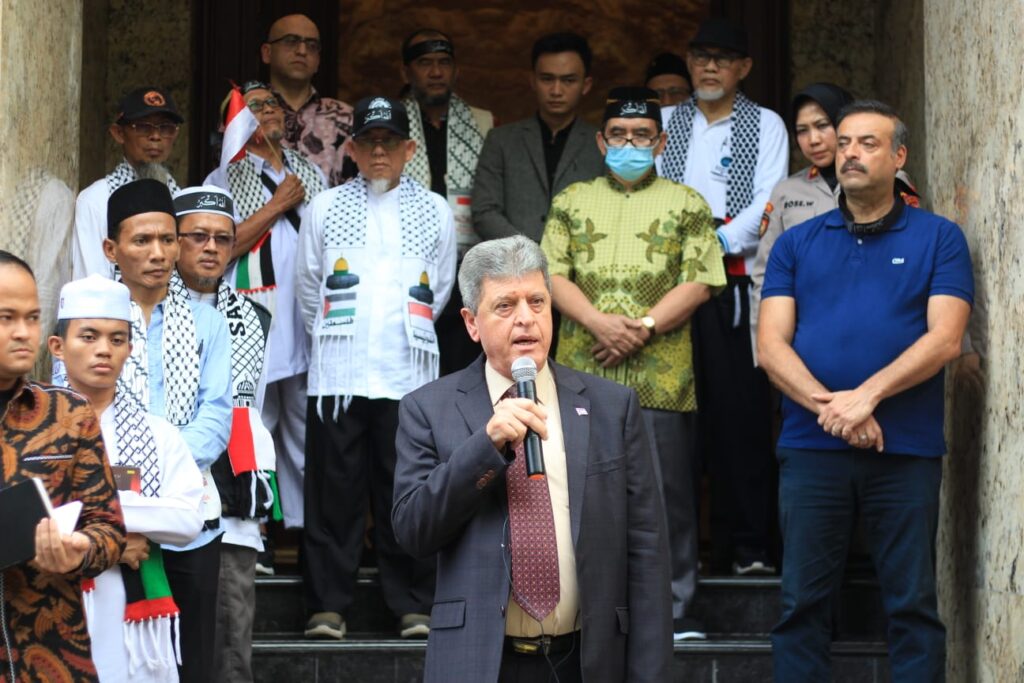 Palestinian Ambassador to Indonesia Zuhair Al Shun (photo: Abdullah/MINA)
Jakarta, MINA – The Palestinian Ambassador to Indonesia Zuhair Al Shun believes that Israel as the colonial authority will lose and his country will win.
"And we are sure that Israel will lose, Israel will lose, and Insha Allah it will be our Palestinians who will raise the flag to the gate of victory," said Zuhair Al Shun in his remarks at the Palestinian Solidarity Peace Action held by the Aqsa Working Group (AWG) in the courtyard of the Embassy on Palestine in Jakarta on Monday.
The Ambassador emphasized that the Palestinian people will be steadfast and continue to fight to return after being driven from their own homeland for decades.
He also expressed his gratitude for the support and love of the Indonesian people for Palestine.
A crowd from the Aqsa Working Group (AWG) carried out a solidarity action for Palestine by holding a long march to the raising of Indonesian and Palestinian flags and delivering speeches and poetry at the Palestinian Embassy in Jakarta on Monday.
During the peaceful action, the AWG condemned a special meeting of the Cabinet of the Government of Benjamin Netanyahu which was held on Sunday, to commemorate "Jerusalem Day" at an archaeological site near the main area of ​​the Wailing Wall, which is the area of ​​Al-Aqsa Mosque, the third holiest site for the Islamic community.
Since Israel seized the area in 1967, Jews have been allowed to enter, but not to worship there. On that occasion, Israeli Prime Minister Benjamin Netanyahu affirmed his claim to all of Jerusalem, which he views as the eternal and undivided capital.
The peaceful demonstration was held by holding a Palestinian Solidarity long march, starting from the Proclamation Monument to the Palestinian Embassy in Jakarta.
While the peak of the action was assembled with the raising of Indonesian and Palestinian flags, as well as delivery of speeches, and poetry readings on the Courtyard of the Palestinian Embassy in Jakarta.
Also present to deliver remarks, namely the Palestinian Ambassador to Indonesia, HE. Dr. Zuhair SM Al-Shun, KH. Yakhsyallah Mansur, M.A (Main Advisor of the Aqsa Working Group), and Ambassador Bunyan Saptomo (Chairman of the MUI Commission on Foreign Relations and International Cooperation).
While the speech and reading of AWG's statement will be delivered by Muhammad Anshorullah, Presidium of the Aqsa Working Group (AWG).
Apart from that, dr. Sarbini Abdul Murad; MER-C Presidium, Astrid Nadya Rizqita, President of OIC Youth Indonesia; Onny Firyanti Hamidy, Head of the Maemuna Center; Ali Farhan Tsani, Al-Quds Ambassador; Sakuri., SH., Trustee of Ukhuwah Al-Fatah Rescue (UAR)
The Aqsa Working Group (AWG) is an institution formed to accommodate and manage the efforts of Muslims to liberate the Al-Aqsa Mosque. (L/RE1)
Mi'raj News Agency (MINA)