PALESTINE OPENS FIRST WEST EUROPE EMBASSY IN SWEDEN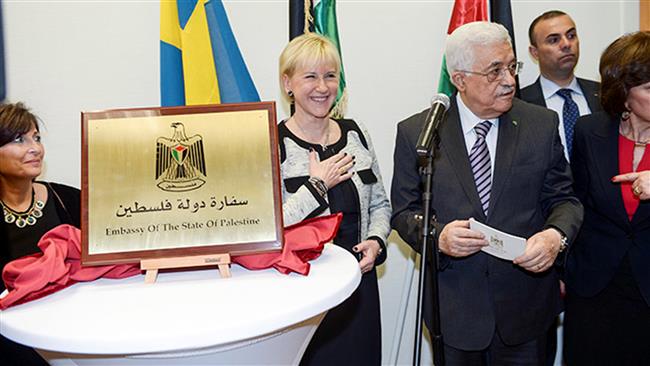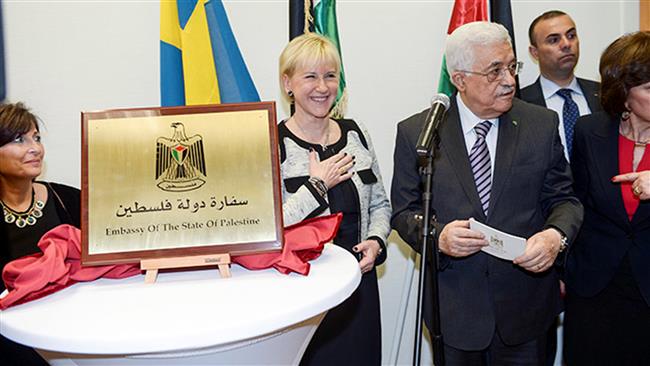 Stockholm, 21 Rabi'ul Akhir 1436/11 February 2015 (MINA) – Palestine has opened its first embassy in Western Europe in the Swedish capital city of Stockholm amid Israel's anger.
According to official Swedish sources, Palestinian President Mahmoud Abbas and Swedish Foreign Minister Margot Wallstrom attended the inauguration ceremony of the Palestinian embassy in Stockholm on Tuesday night.
Israel's Reaction
Israel has lashed out at the Swedish government for the inauguration of the Palestinian embassy, Press Tv reported as quoted by Mi'raj Islamic News Agency (MINA).
This decision "is an unfortunate consequence of the mistaken policy adopted by the Swedish government. It will serve no purpose and certainly not advance us in the pursuit of negotiations,"said Israel's Foreign Ministry spokesman Emmanuel Nahshon.
Sweden Vows Financial Aid, Urges Reforms
Abbas is currently in Stockholm to hold talks with the Swedish officials and secure closer ties with the European country.
Earlier in the day, Sweden announced its decision to increase financial aid to Palestinians, but also urged the Palestinian authorities to carry out reforms, epically with regard to women's situation in the country.
"There are challenges: we must help one another to fight corruption, increase gender equality, improve respect for human rights, and of course continue the state building process," said Swedish Prime Minister Stefan Lofven during a meeting with Abbas.
Sweden reportedly plans to increase its financial help to Palestine by 1.5 billion crowns ($179.74 million) over the next five years.
Abbas talks of women's central role in Palestine
Abbas, for his part, reassured the Swedish officials that reforms are currently underway in Palestine.
"Women will play a central role in our institutions on the political level, and municipal contexts, within the judicial system, within security organizations, and on all other levels. We will continue to develop our institutions, in order to raise their (women's) abilities in order to achieve what our people have sacrificed so much for," the Palestinian president stated.
He also called on other countries to follow the path of Sweden which was the first European Union member state in Western Europe to recognize the Palestinian statehood.
Israel-Sweden Frayed Relations
Israel recalled its envoy from Sweden after Stockholm's decision to recognize Palestine, showing that the Tel Aviv regime is deeply concerned about appreciation of the Palestinian cause in a Western country.
Swedish foreign minister also postponed a visit to Israel in January, ostensibly in response to Israel's continued criticism of Stockholm's warm relations with Palestine.
Some 135 governments have so far announced their official backing for Palestine's sovereignty. Parliaments in major European countries, including Spain, France, Britain, Ireland and Portugal as well as the European Parliament have symbolically endorsed Palestine's bid to be recognized as a state. (T/P011/P3)
Mi'raj Islamic News Agency (MINA)