PALESTINE HOPES ASIAN-AFRICAN SUPPORT WOULD END OCCUPATION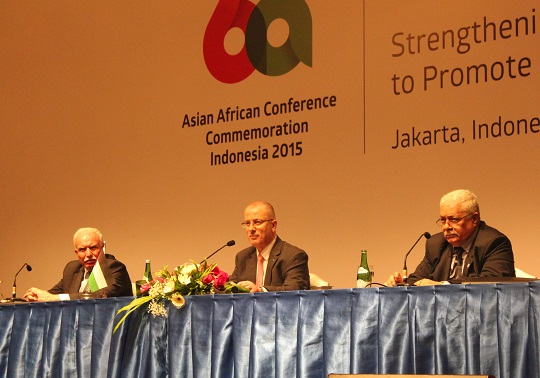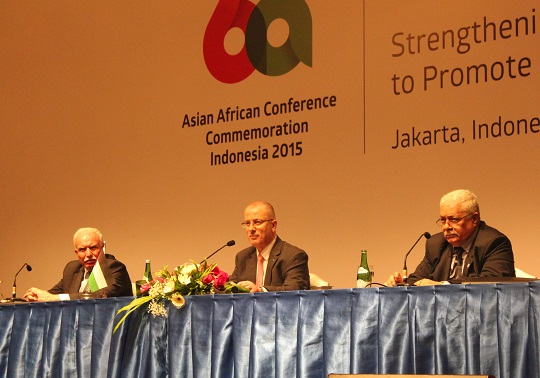 Jakarta, 2 Rajab 1436/21 April 2015 (MINA) – Palestine as the only one occupied  land in this world expressed its thanks to the Asian-African countries for the steadfast support to put an end on Israeli occupation in the country.
During The 60th Asian-African Conference Commemoration  in Jakarta, Palestine Prime Minister, Rami Hamdalah stressed out  that the time has come to end occupation in Palestine through this conference.
"Since the first conference in Bandung on 1955, the goals of independent has been achieved by Asian-African countries while Palestine is still suffering mistreats, displacement,  occupation committed to our people, and this conference will highlights Asian African commitment to create an independent state of Palestine," he said during the press conference of the event in Jakarta, Tuesday.
He also expressed his appreciation for Indonesia's hospitality so far, especially during the conference.
"I thank for Indonesia's hospitality and its president Mr. Widodo as well as its people for us, it is a pleasure for me to join this conference," he said.
During the Asia-Africa Conference 2015 held in Jakarta and Bandung, April 19-24, 2015, Indonesia and other countries in the two continents will reiterate political solidarity and moral support for Palestine, according to Siti Nugraha Mauludiah, the Indonesian foreign affairs ministry director for technical cooperation, recently.
Some 32 world leaders are to attend the AAC Summit on April 22 and 23. The leaders who have confirmed their attendance include those from Brunei Darussalam, Jordan, Swaziland, China, North Korea, Iran, Madagascar, Malawi, Myanmar, Namibia, Sudan, Timor Leste, Vietnam, Zimbabwe, Bangladesh, Cambodia, Egypt, Gabon, Malaysia, Nepal, Pakistan, Palestine, Singapore, and Thailand.
Six countries, namely Algeria, Angola, Liberia, the Philippines, Seychelles, and Zambia, will send deputy heads of state or government.
The Asia-Africa Conference (ACC) was first held in Bandung, West Java, on April 18-24, 1955, at the initiative of Indonesia, Myanmar (Burma), Ceylon (Sri Lanka), India, and Pakistan.
It was seen as a symbol of freeing countries from colonialism, besides being a symbol of resurgence of Asian and African nations.
Some 29 countries representing more than half of the worlds population had sent their delegates to the conference. The conference resulted in the "Dasasila" Bandung, or the 10-points Bandung Declaration, on the Promotion of World Peace and Cooperation.
Sixty years since the conference, all countries have been freed and gained their independence except for Palestine.
Israeli Zionists has illegally occupied Palestine for the past 68 years with the support of its main ally the United States and some other western countries such as Britain, Canada, France, Australia, and Germany.
Palestinians, particularly women and children, have suffered terribly due to Israeli attacks, abuses and illegal detentions.
The solidarity and support are in accordance with the spirit of the Bandung Conference which is totally against any colonialism and occupation on Earth.(L/R04/R03)
Mi'raj Islamic News Agency (MINA)