Outrage as South African Opposition Leader Visits Israel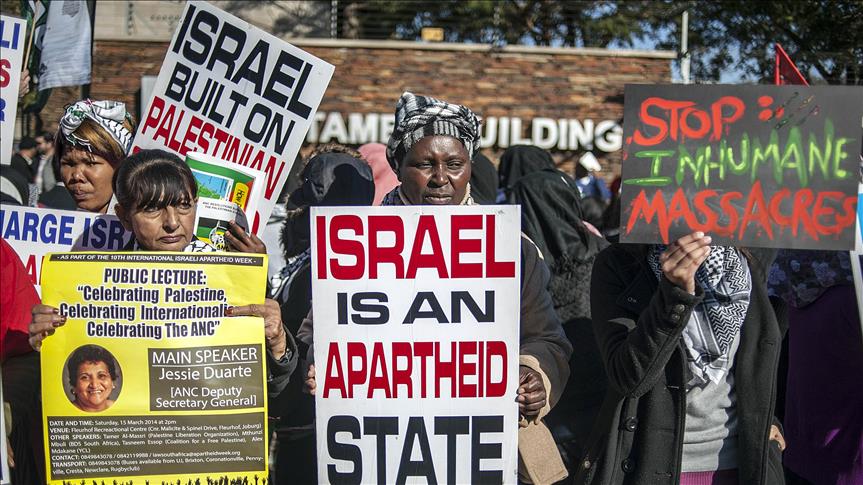 Rally to protest against the visit of South Africa's main opposition leader, Mmusi Maimane, to Israel.
Johannesburg,- 14 Rabiul Akhir 1438/13 January 2017 (MINA) – The visit to Israel by South Africa's main opposition leader, Mmusi Maimane has caused widespread outrage in the continent's most advanced economy.
"The African National Congress (ANC) notes the anger and joins fellow South Africans in condemning the visit by the Democratic Alliance's (DA) Mmusi Maimane to Israel and to Israel's Prime Minister," the ruling ANC said in a statement late Thursday.
Maimane's visit comes barely four days after President Jacob Zuma urged South Africans not to visit Isreal unless the purpose of their visit is to foster peace building in the region, Anadolu Agency reported.
Addressing thousands of supporters on Sunday, Zuma said: "The people of Palestine continue to suffer in their rightful quest for self determination."
He said his ANC party will continue its ongoing solidarity and support for the just cause of the Palestinian people.
"It speaks volumes that the DA is trying to take us back to apartheid days by forging relations with countries like Israel and other regimes that backed apartheid," the Palestine solidarity and human rights organization BDS South Africa said in a statement.
Israeli occupation similar to Apartheid
Many South Africans including the ruling ANC have publicly expressed support for the Palestinian struggle against Israeli occupation.
They believe what is happening to Palestinians is similar to what happened to them during decades of apartheid which ended in 1994.
In a statement, the DA said, its leader was visiting Israel and the Palestinian territories in order to listen and learn about the conflict first hand.
"He is also here, as a person of deep faith, to visit some of the most important holy places that are of spiritual meaning to him," the statement said.
South African student activists, politicians and business leaders who have previously visited Israel were criticized for their actions.
The ANC has also criticized the DA for not challenging the Israeli government on its continued abuse of human rights and for not acting in solidarity with the Palestinians, even during the height of Israel's attacks on the Gaza Strip.
Some users of social networking sites also criticized the DA leader for his decision to visit Israel. (T/RS05/RS01)
Mi'raj Islamic News Agency (MINA)