'ONLY STONES REMAIN': GAZA LIES IN RUINS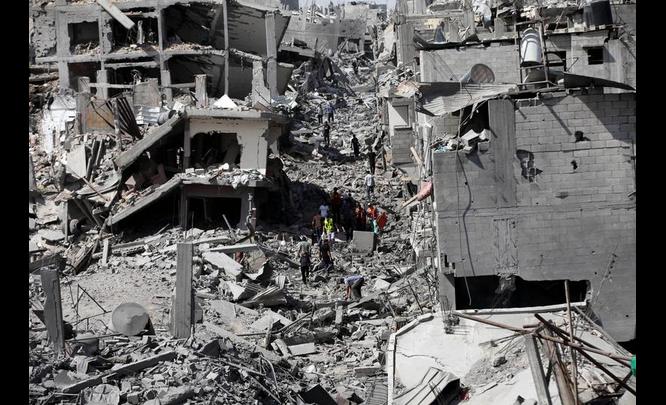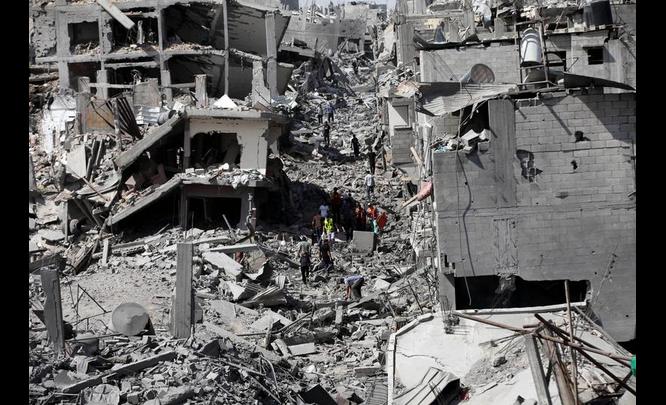 Beit Hanoun, Gaza Strip 29 Ramadan 1435/27 July 2014 (MINA) – Umm Ahmed Abu Sahwish holds stones in her hands. They are now all that's left of her demolished home. "My home is gone and only stones remain," the 65-year-old says.
Hundreds of homes here have been destroyed, and unexploded Israeli missiles litter the ground at the entrance to the town, at Gaza's northern tip near the border with Israel. The local hospital, emergency rescue equipment, and infrastructure have also incurred heavy damage from Israeli shelling.
Palestinians in Gaza have been shocked by the scale of Israeli destruction, as long-term truce efforts continue, Al Jazeera quoted by Mi'raj Islamic News Agency (MINA) as reporting, Sunday.
Another woman, from a family of 20 people, cries as she tries to dig through the rubble of her house. "Lifetimes of personal and household belongings are gone, with one Israeli missile. Where can we go? We have no food, water, bedding or extra clothes," she says.
Driving the length of this tiny stretch of land – 1.8 million Palestinians live on Gaza's 360sq km – scenes of devastation are everywhere. The trip from the north to the south of Gaza was only possible during a 12-hour humanitarian ceasefire, agreed to by Israel and Hamas on July 26.
On Sunday, Israel resumed its military operation in Gaza, as the prime minister's office declared: "If residents are inadvertently hit, it is Hamas which is responsible given that it has – again – violated the humanitarian truce that Israel acceded to."
Hamas and other Palestinian factions reportedly agreed to a 24-hour humanitarian truce in the Gaza Strip, starting at 2pm local time on Sunday.
At least 1,052 Palestinians have been killed and more than 6,000 injured since Israel's military offensive began on July 8. Forty-three Israeli soldiers have also been killed, along with two Israeli civilians and one Thai worker.
Rights groups accuse Israel of war crimes
In Gaza City, there is little to salvage from beneath the destruction.
The eastern neighbourhood of Shujayea is a ghost town. Electricity cables are sliced and sticking out of the debris of homes. Cars lay burnt out, and human remains are scattered along the streets; the air is thick with the smell of decay. "I am 45 years old, and I have never seen destruction like this," says a resident, who didn't give Al Jazeera his name.
At least 120 Palestinians were killed and hundreds more injured when Israel heavily bombarded Shujayea overnight on July 21. The ceasefire provided the first opportunity for families to return to their homes to survey the destruction and salvage their belongings.
Ambulance sirens ring out, announcing the discovery of more dead bodies from beneath the rubble. At least 90 bodies were pulled out from the destruction in Shujayea during the ceasefire on Saturday.
"This is more ominous than Sabra and Shatila," says Umm Hesham, referring to the killing of about 2,000 Palestinian refugees in the Beirut-area refugee camps in 1982, as her son helps her avoid stepping on bodies.
Outside Shujayea, on al-Wehda street, traffic is closed off. Residents busied themselves with trying to get food, water, and medicine during the ceasefire. Abu Haytam, a father of eight, stood at a market looking for pasta and lentils. He said he didn't know what would happen in the coming days: "With electricity out, we can't buy meat or chicken, it will rot too quickly in the heat," he said.
Nearby, a man selling vegetables was surrounded by customers, while at least 300 men waited for bread at Tal al-Hawa bakery. Banks were crowded, while money wire centres were overflowing with people clamouring to get cash.
'The smell of death was everywhere'
There are two roads linking north and south Gaza: Saladin Road and Beach Road. Both are damaged; the former from Israeli tank shells and the latter from the Israeli warships lining the coast.
Along Saladin road, dairies and a local beverage factory are destroyed, while technical teams worked to restore power to electricity and water installations. Al Aqsa hospital in Deir el-Balah is damaged after Israeli strikes hit the operating theatre and the radiology department, killing five people and injuring more than 70 others on July 21.
In Khan Younes, a burnt-out crater leaves a gaping hole on the main road, the aftermath of an Israeli F16 missile strike. The residents of nearby Khuzaa, which was under heavy Israeli bombardment, are sleeping on the streets. Access to water is extremely difficult; a man who generally sells water tanks for 15 NIS ($4) is now asking for 100 NIS ($29).
The road to Rafah, at Gaza's southernmost end, is equally precarious.
Two days ahead of Eid al-Fitr, the celebration marking the end of the holy month of Ramadan, Dahra market in Khan Younes is buzzing with activity, but no one is in the mood to celebrate. Most are only there to stock up on supplies.
But in Rafah, a barbershop is full of young people getting haircuts. Spirits are high, but talk quickly turns to stories of death and destruction. The youth are also criticising neighbouring Egypt for not opening the Rafah border crossing, only a few hundred metres away.
"The [Israeli-Egyptian] siege has hit every aspect of life; spare parts for my shaving machine are unavailable," says 29-year-old barber Abuel Bara. "Before we would buy it from tunnel merchants, but tunnels are now closed."
The machine provides the only income to feed his two daughters, wife, parents and siblings, he says. "But Israel sees no humanitarian need [to lift the siege]." (T/E01/IR)
Mi'raj Islamic News Agency (MINA)