Media Group Funds IDR 6.5 Billion for Indonesia Hospital in Gaza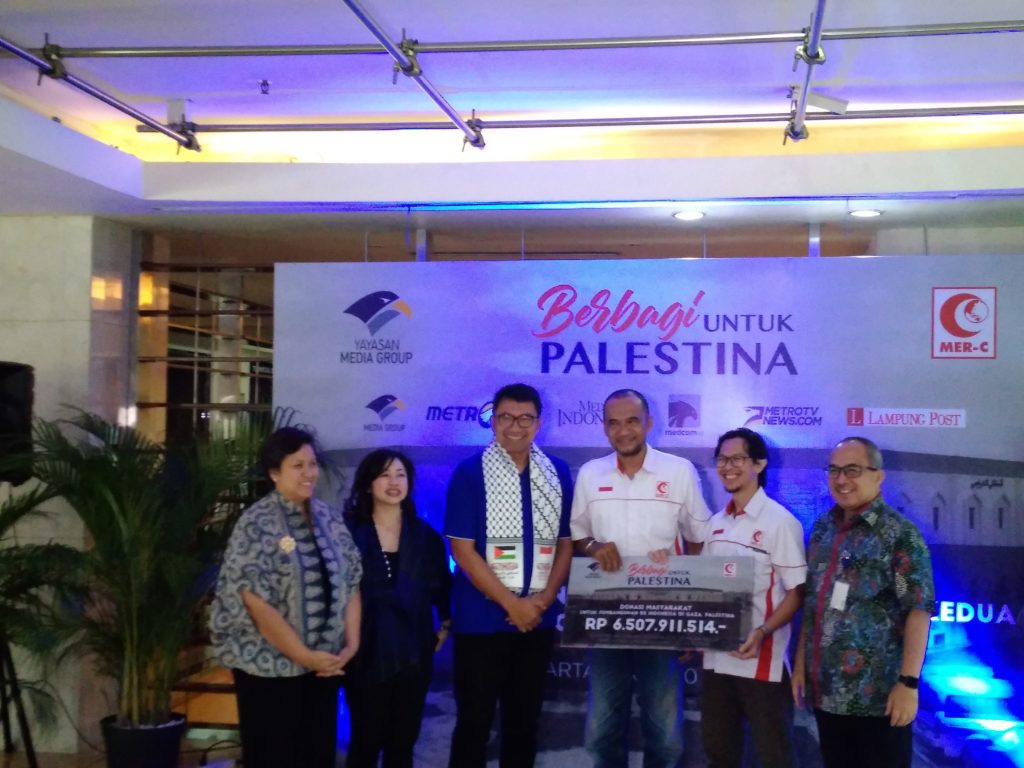 Find Submission of Indonesia Hospital in Gaza from Media Group Foundation to MER-C (photo: Sajadi/MINA)
Jakarta, MINA – Media Group Foundation handed over IDR 6,57,911,514 for construction of the second phase of Indonesia Hospital (RSI) in Gaza, Palestine.
The funds was collected from community through Media Group and Metro TV which was symbolically handed over by Chairman of Media Group Foundation, Ali Sadikin and accepted by Emergency Medical Institution (MER-C) Presidium dr. Sarbini Abdul Murad at Media Group Foundation Head Office, Jakarta, Wednesday July 10.
"Today we are giving about IDR 6.5 billion to MER-C from the Indonesian people, and this is a good start to continue helping Palestinians," Ali Sadikin said.
Meanwhile, dr. Sarbini thanked Media Group Foundation and Metro TV for providing assistance and attention to Palestinians.
He also appreciates Metro TV, as a national TV, with its reporting, the construction of RSI in Gaza can be known by the people of Indonesia.
"Since the beginning Metro TV has helped with its touch, so people know that MER-C is building an RSI in Gaza," said dr. Sarbini in his speech.
He also stressed that the construction of RSI is a joint project of Indonesian people and not the last project in Gaza. There will still be other health facility projects.
In the construction of RSI in Gaza this second stage, MER-C still needs funds of about IDR 75 billion. Meanwhile, MER-C also collaborated with Al-Fatah Islamic Boarding School which has sent 28 volunteers to build RSI in Gaza.
The volunteers continued the construction of Indonesian Hospital, namely construction of the third and fourth floors. The hospital which is established in the North Gaza Lahiya Temple is a symbol of Indonesian and Palestinian friendship.
The builder of RSI in Gaza which began in 2013 originated from the mission of Indonesian humanitarian aid team that brought medical aid from the government and people of Indonesia to Gazans, Palestinians, late 2008 to early 2009, during which the 22-day Palestinian war with Israel.
In its development, MER-C raised funds from Indonesian people to finally realize in Gaza, which is located in Bayt Lahiya, North Gaza.
Actually, the official launch of Indonesian Hospital would be held in Gaza. However, because Gaza's entry permits were still experiencing problems, then the surrender held in Indonesia.
Indonesian Vice President Jusuf Kalla attended the symbolic surrender of Indonesian Hospital from MER-C for Palestinian people which was held at Taman Ismail Marzuki, Central Jakarta, on January 9, 2016.
The event was also attended by Indonesian Foreign Minister Retno Marsudi, Deputy Governor of Aceh (at that time) Muzakir Manaf, Palestinian Health Minister Hani Abdeen, and Palestinian Ambassador to Indonesia Fariz Mehdawi. (TL/Sj/P2)
Mi'raj News Agency (MINA)