WHERE'S MEDIA IN CHAPEL HILL INCIDENT?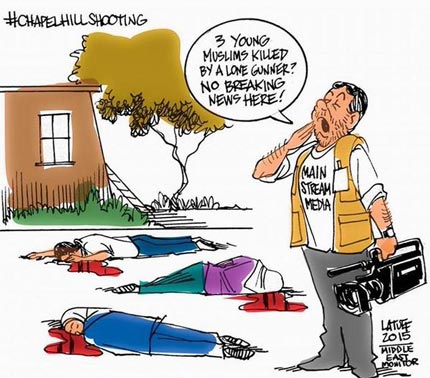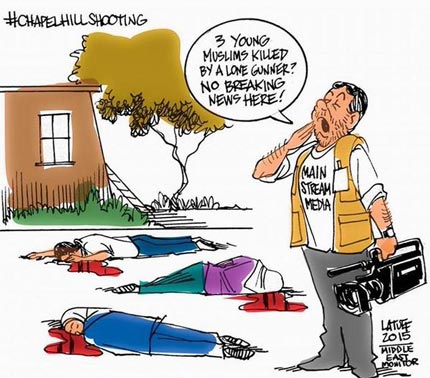 North Carolina,  21 Rabi'ul Akhir 1436/11 February 2015 (MINA) – The brutal execution-style murder of three American Muslims in a calm neighborhood in North Carolina has sparked angry reactions on social media, with many rushing to compare media coverage of the terrible incident to that of Charlie Hebdo attacks.
"If they had been white Christians, the media would have been all over it. RIP #ChapelHillShooting," Ben Norton wrote on twitter on Wednesday morning, On Islam quoted by Mi'raj Islamic News Agency (MINA) as reporting.
"I want to see protests, I want to see news coverage, I want to see marches, I want the same outrage expressed in France. #ChapelHillShooting," Adham Kassem tweeted.
Deah Shaddy Barakat, 23 his wife Yusor Mohammad Abu-Salha, 21 and her sister Razan Mohammad Abu-Salha, 19, were found dead at a condominium complex off campus.
The gunman, identified by the Independent as 46-year-old Craig Stephen Hicks, reportedly turned himself into police.
Long hours after the murder, which occurred after 5pm in North Carolina local time, no reports about the incident made it to major media outlets.
"I wonder why I'm thinking about when Fox News host Jeanine Pirro demanded "We need to kill them!" #ChapelHillShooting," Dena Takruri tweeted.
"The #ChapelHillShooting took place 9+ hours ago. Still no coverage from @CNN, @FoxNews, @MSNBC and major outlets," Khaled Bey added.
"These 3 Muslim Students are shot dead in #ChapelHillShooting today but US Media didn't show them even once till now!," Farhan Khan Virk wrote.
Others referred to the fact that the religion of the murderer who turned himself to the police, Hicks, was not identified.
Media reports also referred to him as suspected attacker and not terrorist as they do when the attacker is a Muslim.
"Why isn't his race and religion released? He could be an extremist *insert religion here* for all we know. #ChapelHillShooting," Nargis tweeted.
Renowned caricaturist Carlos Latuff also tweeted, "Now imagine if Craig Hicks was Muslim and had shot down three young Christians/Jews… #ChapelHillShooting".
"Please, RT! Muslim lives matter, except for the MSM! #ChapelHillShooting via @MiddleEastMnt
"Black Lives Matter…Muslim Lives Matter…Fox News Live Don't Matter!," he added in a third tweet. (T/P011/R04)
Mi'raj Islamic News Agency (MINA)