Malaysians Join Asia-Wide Protests to Support Rohingya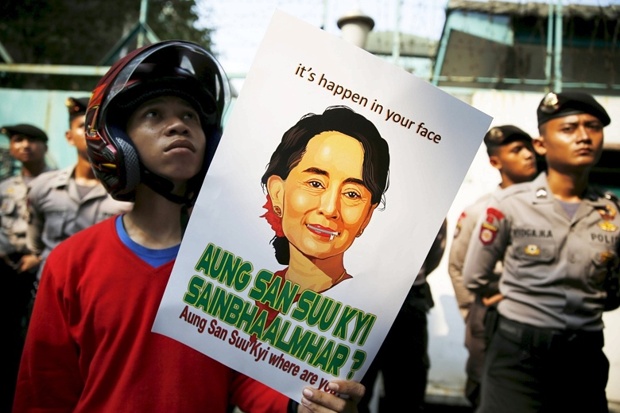 Kuala Lumpur, 26 Safar 1438/25 November 2016 (MINA) – Hundreds of Malaysians have marched alongside Rohingya Muslims in Kuala Lumpur to voice opposition to recent violence in Myanmar that has left anywhere between 86 and 500 people dead.
The protest near the country's national mosque after Friday prayer — one of three that took place in Southeast Asia on Friday — attracted some 600 people, including members of civil society and non-governmental organizations, and Rohingya being given sanctuary.
Rohingya leader Rafi Ismail underlined to reporters that as a senior member of the Association of Southeast Asian Nations (ASEAN), Malaysia should be proactive in calling for an end to military violence in Myanmar's western Rakhine State — home to around 1.2 million of the persecuted Muslim minority.
"About 17 of my family members have been massacred in Rakhine," he stated, flanked by dozens of Rohingya refugees.
"This cannot prolong further."
Over the past six weeks, rights groups have expressed concern over reports of killings, rapes, arbitrary arrests and other violations in villages predominantly inhabited by Rohingya in troubled Rakhine amid military operations launched after fatal attacks on police outposts last month.
Myanmar has said that since Oct. 9, at least 86 people — 17 soldiers and 69 alleged "attackers" (among them two women) — have been killed, and property destroyed in the area.
Rohingya groups, however, claim that the number killed in one weekend alone earlier this month could be as high as 150 civilians.
Humanitarian outfits have called for independent investigations into the initial attacks, the ongoing operations and reported rapes and rights abuses in Rakhine, as with the area placed under military lockdown, rights groups and international reporters have been unable to enter.
Ismail stated that even with a new government in place led by Nobel Peace laureate Aung San Suu Kyi "no one in Myanmar is listening".
"The international community is also keeping their voices low," he added. "We are a minority community and we don't even have weapons but we are being subjected to such violence."
Ismail stressed that the protest would continue nationwide until the Malaysian government takes a firm stand against the Myanmar government or until the situation stabilizes.
Malaysia's firm concern
After Friday's protest, Malaysia's foreign ministry issued a statement saying that it would summon Myanmar's envoy for an explanation about the current situation in Rakhine, and to express Malaysia's firm concerns on the matter.
"Malaysia also calls on the government of Myanmar to take all the necessary actions to address the alleged ethnic cleansing in the northern Rakhine State," the ministry said, adding that while any probe into the violence takes place, all parties must refrain from actions that could "aggravate" the situation.
Also Friday, Prime Minister Najib Razak joined thousands of Malaysians in special Friday prayers in administrative capital Putrajaya to pray for the well-being of the Rohingya.
Minister of Islamic Affairs Jamil Khir Baharom, who spoke at the prayers, said Malaysia believes that ASEAN countries should play serious roles in ensuring peace in Myanmar — a member state in the bloc — as well as in extending humanitarian assistance to Rohingya people.
"In a collective ASEAN spirit, we believe peace can be restored and this kind of situation will not repeat," he added.
Similar protests took place in Bangkok and Jakarta on Friday, with around 200 gathering in front of Myanmar's embassy in downtown Bangkok to protest, while in Indonesia thousands marched from the embassy to a local United Nations office.
"We want them to stop killing our brothers and sisters in Myanmar," the secretary-general of the Rohingya Thailand Group told Anadolu Agency.
"Stop the genocide now," HJ Ismail demanded. (T/R07/R01)
Mi'raj Islamic News Agency (MINA)