Local Community and International NGO Resolve on Governance for Peace in Korea and Globe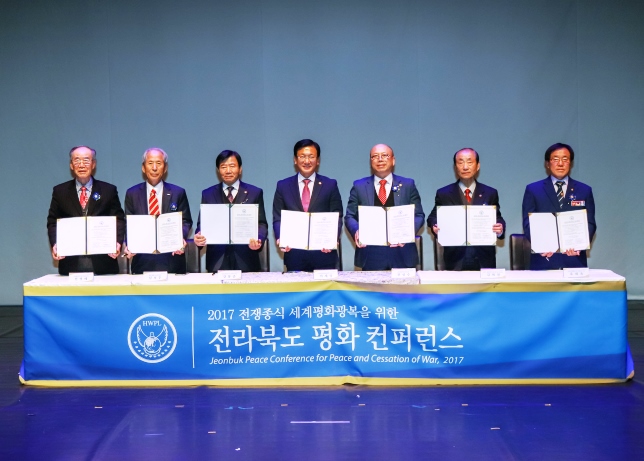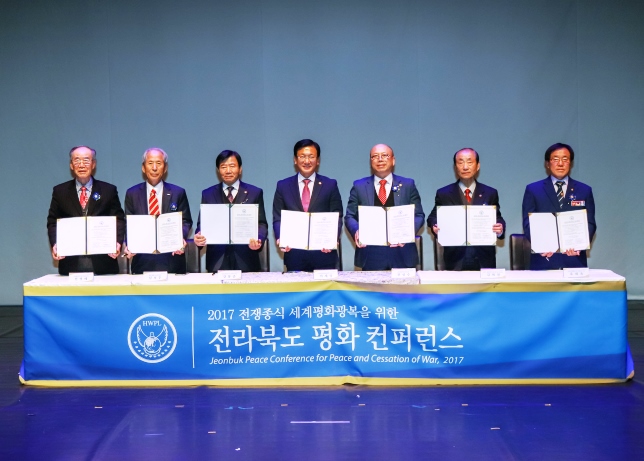 Jeonju, MINA – "The 2017 Peace Conference on Cessation of War and World Peace" was held at Samsung Culture Center in Jeonju, South Korea with 2,000 participants from politics, religions, media and civil society organizations and they resolved to build cooperation for Korean and global peacebuilding.
Heavenly Culture, World Peace, Restoration of Light (HWPL), the host organization of this conference, is an international NGO under the UN ECOSOC advocating global partnership for peacebuilding through introduction of international law for peace, religious harmony, peace education and journalism.
Jae Sang Lee, chief director of HWPL Jeonbuk Branch, said, "HWPL's founding spirit, proposed by Chairman Man Hee Lee the founder of the organization, appeals to global peace that can only be achieved when overcoming differences in nationality, ethnicity, religion, and ideology. Leaders of society should be messengers of peace who take the lead in their fields to achieve peace.
President Hyuk Kwon Kim from Leaders Federation for Korea Unification founded in 2015 with post-Korean War generation national leaders emphasized, "Unification of Korea promptly meets the needs of the times to Korean citizens. Now is the time for families to finally meet again."
"Government and civil society should support and work together for expanding peace education, seminars and campaigns. The rich experience of HWPL's peace activism around the world will provide plan of actions for 'denuclearization of Korea and construction of peaceful international system'," said Kim.
At the end of the conference, participants as representatives of civil society organizations signed the agreement to develop action plans for peacebuilding at the local level.
"City of Jeonju has cultural significance with over 2,000 years of rich historical records and cultural assets. This city demands an active role of civil society as member of UNESCO Creative Cities and site of International Information & Networking Centre for Intangible Cultural Heritage in the Asia-Pacific Region under the Auspices of UNESCO (ICHCAP). Like today's event, HWPL's initiative – developing peace as a culture – continues through the cooperation between the local community and government," said general director Ian Seo of department of public relations, HWPL HQ.
With the provision of the UN Sustainable Development Goals, HWPL drafted the Declaration of Peace and Cessation of War (DPCW) to enhance peacebuilding efforts at a global level.
To establish sustainable peace in the globe, the declaration addresses respect on international law, ethnic/religious freedom, spreading a culture of peace. The Legislate Peace Campaign is underway to promote the DPCW in 120 cities around the world.(R/R01/P2)
Mi'raj News Agency (MINA)