KERRY TO MEET WITH AFGHAN PRESIDENTIAL CANDIDATES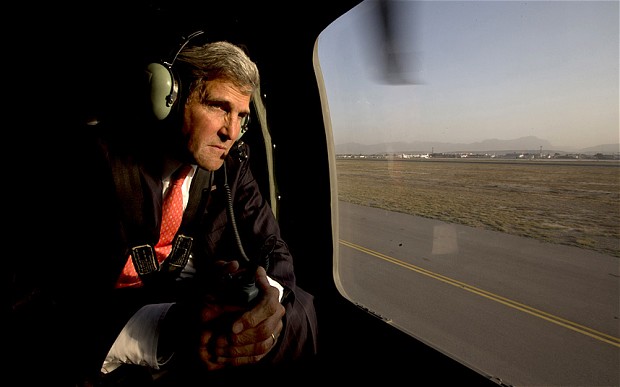 Kabul, 13 Ramadan 1435/11 July 2014 (MINA) – US Secretary of State John Kerry has traveled to Afghanistan in a bid to meet with Afghan presidential candidates to solve an ongoing election crisis, Press TV reports.
Afghan presidential candidate, Abdullah Abdullah, condemned the initial results of last month's run-off vote, which showed that Abdullah's rival, Ashraf Ghani, won the run-off with 56.44 percent of the votes while Abdullah came second with 43.56 percent, Press TV quoted by Mi'raj News Agency (MINA), as reporting, Friday.
"I've been in touch with both candidates several times as well as President (Hamid) Karzai," Kerry said before leaving Beijing on Thursday, where he attended a US-China economic meeting.
He demanded that both candidates "show critical statesmanship and leadership at a time when Afghanistan obviously needs it."
Kerry, who arrived in Afghanistan early on Friday morning, had warned on Tuesday that any action to seize power through means other than the legal channels in Afghanistan will lead to an end to the US financial and security support for the country.
"I have noted reports of protests in Afghanistan and of suggestions of a 'parallel government' with the gravest concern," Kerry said,
He adding, "Any action to take power by extra-legal means will cost Afghanistan the financial and security support of the United States and the international community."
The final results of the Afghan presidential election will be announced on July 22.
The winner of the election will succeed outgoing President Hamid Karzai, who has been in power since the US-led invasion of the country in 2001. (T/P012/E01)
Mi'raj Islamic News Agency (MINA)