Jokowi: Pesantren is the Main Supporter in National Character Building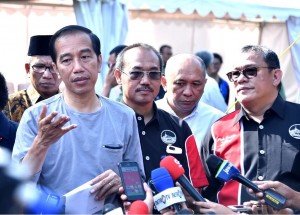 Bogor, MINA – President of Indonesia Joko Widodo (Jokowi) has said that pesantren (Islamic Boarding school) is the main supporter of national character building.
The President made the remarks in his response to the questions of journalists while attending the Festival and the Exhibition of Chirping Birds of the President Jokowi Cup 2018 at the Bogor Botanical Gardens, Sunday (11/3), MINA reported, citing a press release issued by the Cabinet Secretary.
"Matters relating to morals, attitudes, behavior, ethics, values, norms, are present and developed very well in boarding schools," he said.
Jokowi added, pesantren does require the attention of the government, especially in terms of facilities. He added that the economy of people in pesantren that already have a business community should be immediately involved.
"In every region that I have been visited, I always visit to one until three pesantrens to meet the scholars (ulama). Many problems are delivered by pesantrens leaders. This is increasingly multiplying and strengthening our understanding of the problems in pesantrens, " he added.
As is known, President Jokowi always take a time to visit the pesantren when doing a work visit, including when visiting the province of East Java on 8-9 March.
In addition to submitting land title certificates, coming to harvest corn, inaugurating Java Integrated Industrial and Ports Estate (JIIPE), and carrying out other work agenda, the President took time to get together with the scholars.
Pondok Pesantren Mambaus Sholihin in Gresik, East Java got the first chance to get a visit by visited by the President on Thursday (8/3). The President was welcomed by the head of Pondok Pesantren Mambaus Sholihin, KH. Masbuchin Faqih.
In addition to Pondok Pesantren Mambaus Sholihin, the President also visited to Pondok Pesantren Langitan, Tuban Regency, East Java on Thursday (8/3) evening.
The third pesantren that has been visited by President Joko Widodo is Pondok Pesantren Assalafi Al Fithrah, Surabaya, East Java on Friday (9/3) In this pesantren Jokowi has launched Micro Wakaf Bank.(LT/R04/RS5)
Mi'raj News Agency (MINA)