Jama'ah Muslimin: Violence and Oppression in Kashmir Must Be Ended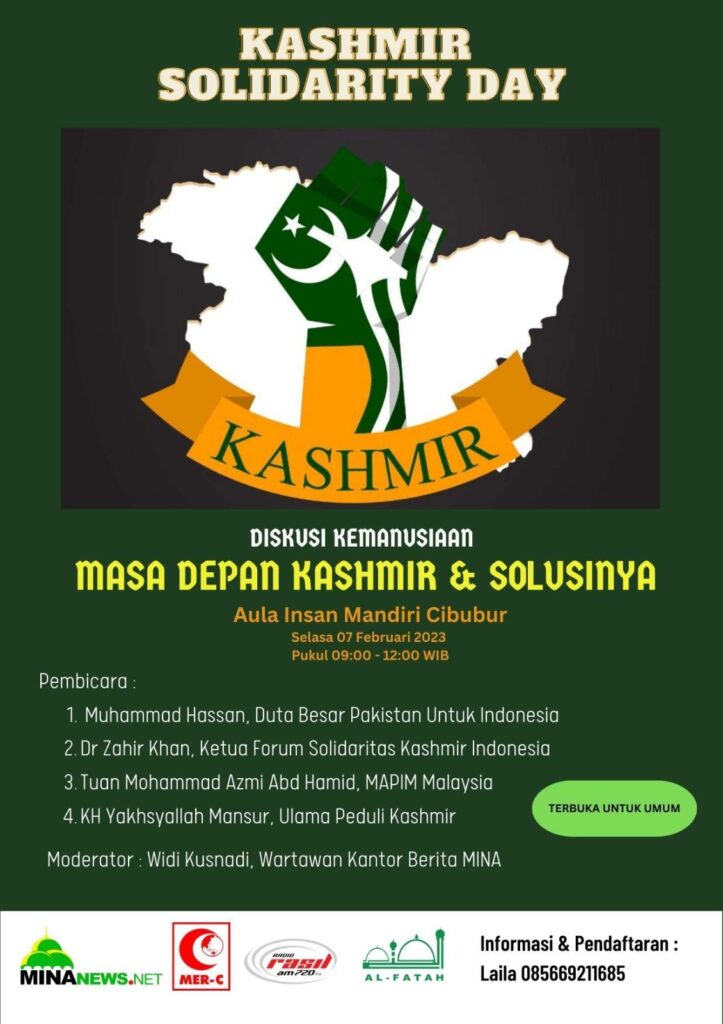 Bogor, MINA – Regarding to Kashmir Solidarity Day on February 5, 2023, Jama'ah Muslimin (Hizbullah) urges that the violence, terror and oppression against Kashmiris must be ended.
Amir Ukhuwah Syakuri in a written statement received by MINA on Thursday said that since the reign of Maharaja Hari Singh in 1947 until now they live in long suffering. Thousands of lives floating, the country is divided, there is no justice, security, and citizens always live in fear.
"The nations of India and Pakistan are often involved in a war because of the territorie's struggle of Kashmir actually suffered a lot of losses. Thousand soldiers of both countries were killed. The two nations had to bear the enormous cost of war, with mutual enmity and their weapons were used in vain to kill each other in the middle the suffering of the citizens of Kashmir," said Syakuri.
According to him, The best solution to prevent the recurrence of destructive wars for all nations, as well as to guarantee regional peace even world, so that India and Pakistan must seriously initiate steps for peace and respect the right of Kashmiris to determine their own destiny, which is protected by international law and forms the core of the UN Charter.
"We call on the Governments of India and Pakistan to show good faith to start peace negotiations. The two nations must not be provoked by any party and prioritize the interests of the people Kashmir rather than regional control ambitions," he added.
He also said, to ensure the implementation of these goals, it is necessary need to be formed joint transitional governments such as the formation of the United Nations Transitional Authority in Cambodia (UNTAC) last years by involving countries that behaved neutral and support peace efforts.
He further said that the majority of Kashmiris are peace-loving Muslims
who don't have passion let alone weapons to attack his neighbors. Because of it's violence and the armed attack on Kashmiri Muslims is a crimes that cannot be justified by any law.
"We call on any force that uses violence against Muslims to be responsible for their actions and should be afraid of Allah Subhanahu wa Taala's warning about killing Muslims as stated in the Al Quran Surah Al Maidah verse 32," he said.
We also appeal to the Government and people of Indonesia to pay more attention to the Kashmir issue. This concern is a manifestation of the implementation of the constitutional mandate, namely active participation in efforts to bring about world peace, including in Kashmir, and the liberation of world citizens from all forms of oppression and tyranny on earth;
"Only in Allah we hope and put our trust. May Allah Subhanahu wa Taala provide assistance to the people of Kashmir so that they can live normally as other human races whose rights are respected and protected to enjoy true justice and peace, Amin," Syakuri said.
Kashmir remains on the unresolved agenda of the 1947 Partition of the Subcontinent; this issue further came into global focus after India's unilateral decision to annul Article 370 of its constitution on 5 August 2019 thus illegally revoking the special status of Indian-occupied Jammu and Kashmir (IIOJK). (T/RE1/P2)
Mi'raj News Agency (MINA)