ISRAELI POLICE DETAIN 5 WOMEN FROM AQSA COMPOUND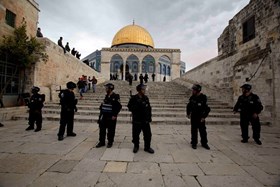 Al-Quds (Jerusalem), 5 Jumadil Akhir 1436/25 March 2015 (MINA) – Israeli police detained five Palestinian women from Jerusalem as they were leaving the Al-Aqsa Mosque on Tuesday.
Witnesses told Ma'an quoted by Mi'raj Islamic News Agency (MINA) as reporting, Israeli police briefly detained an elderly woman at noon on Tuesday, before detaining her daughter and three other women.
The women, who are all from northern Israel, were taken to the Beit Elyahu police station in the Old City of Jerusalem for interrogation.
Witnesses said that the Israeli police "purposely provoked worshipers inside the Al-Aqsa compound during settlers' raids."
Israeli police spokesperson Micky Rosenfeld told Ma'an he didn't know of any individuals detained at Al-Aqsa Tuesday.
Before, Israeli forces on Monday detained four women as they left the Al-Aqsa Mosque compound.
The four women, one of them carrying her infant child, were taken to the Chain Gate police station. Two of the women were released, while the other two, identified as Ayeda al-Sidawi and Noura al-Sa'ou, were held.
Also Monday, an Israeli court extended the remand of Muhammad Nasir al-Deen for three days after he was accused of assaulting an Israeli settler.
Palestinians regularly face restrictions regarding access to the Al-Aqsa mosque compound, with Tuesday marking one of several incidents of reported detainment since the beginning of March.
Following Israel's occupation of East Jerusalem in 1967, Israel has maintained a compromise with the Islamic trust that controls the Al-Aqsa compound to not allow non-Muslim prayers in the area.
Israeli forces regularly escort Jewish visitors to the site, however, leading to tension with Palestinian worshipers.
The Al-Aqsa Mosque compound, which sits just above the Western Wall plaza, houses both the Dome of the Rock and Al-Aqsa mosque.
The third holiest site in Islam, it is also venerated as Judaism's most holy place as it sits where Jews believe the First and Second Temples once stood. The Second Temple was destroyed by the Romans in 70 AD. (T/R05/P3)
 Mi'raj Islamic News Agency (MINA)