Israel Use Rubber Bullets to Dispers Worshipers in Al-Aqsa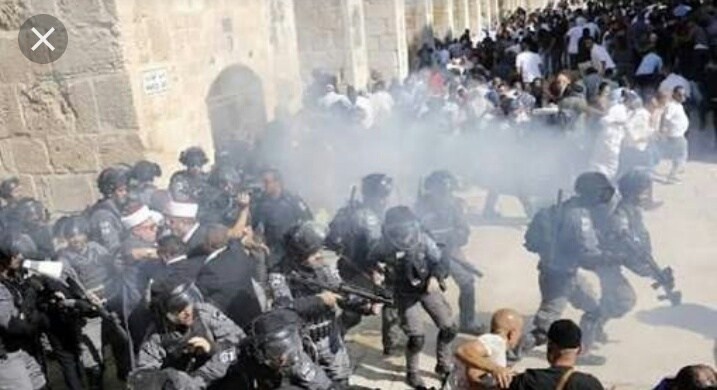 israeli police aggression (photo:Special)
Al-Quds, MINA – Israeli police dispersed worshipers in Al-Aqsa Mosque using tear gas, sound grenades, and rubber bullets on Sunday morning. As a result, dozens of Palestinian Muslims who will perform Eid Al-Adha prayers were injured.
About 14 Palestinians were reported injured. Palestinian Liberation Organization (PLO) official, Hanan Ashrawi, said that Israeli Police action was aggression.
"The raid on Al-Aqsa Mosque complex by Israeli occupation forces this morning was an act of carelessness and aggression," Hanan said, quoted by Morning Star on Sunday.
On Sunday morning, thousands of Palestinians had gathered at Al-Aqsa Mosque to pray and celebrate Eid Al-Adha.
Eid al-Adha celebration coincides with the day of Jews' Tisha B'Av. Namely, the day of fasting and Jewish mourning to commemorate the destruction of Temple Mount in Al-Aqsa Mosque complex.
Under an agreement with Jordanian authorities who maintain Al-Aqsa Mosque complex and Dome of Rock. Israel has banned Jews from worshiping at the former site of Temple Mount.
Israeli police initially barred Jews from visiting Al-Aqsa Mosque complex. But the police later allowed several Jews to visit it under escort. So that, it provokes and infuriates Muslims. Until there was a clash between Muslims and Israeli Police.
Meanwhile, Jerusalem district police chief, Doron Yedid said the decision to allow Jews to enter Al-Aqsa Mosque compound had been made. The decision, also received support from high-ranking Israeli officials.
As it is known, the holy site of Muslims and Jews is located in East Jerusalem, Palestinian land occupied by Israel since 1967. Muslims call it Al-Aqsa Mosque complex.
Meanwhile, Jews call it Temple Mount. Many Palestinians are worried that Israeli politicians are demanding access to Jews aiming to take control of the holy site. (T/Sj/P2)
Mi'raj News Agency (MINA)