INDONESIAN PRESIDENT REVIEWS SMOKE DISASTER UNTIL GROUND ZERO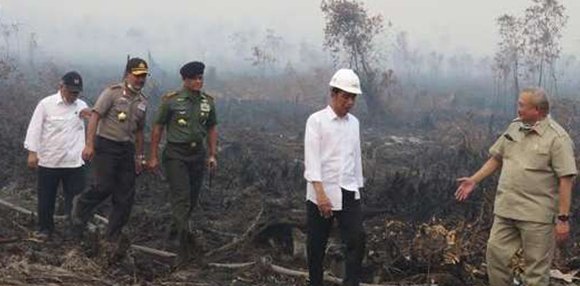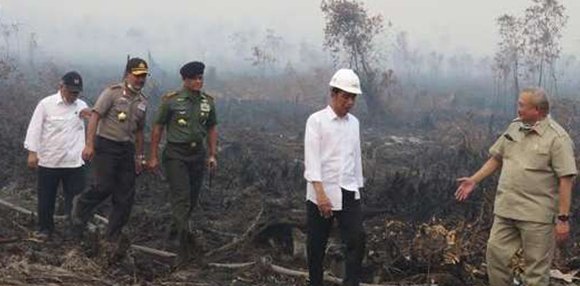 Palembang, 24 Dzulqa'dah 1436/8 September 2015 (MINA) – The President of Republic of Indonesia Joko Widodo, directly reviewed the smoke disaster in Palembang to the middle of the forest area.
The President was monitoring the handling of forest fires in Garonggang village, district of Ogan Komering Ilir, South Sumatera.
The media mentioned, President with staff consisting of the Chief Police General Badrodin Haiti, National Soldier (TNI) Commander  chief Gen. Gatot Nurmantyo, South Sumatra Governor Alex Noerdin and Regent of Ogan Komering Ilir Iskandar.
As many as 13 helicopters are being used in water-bombing efforts and three Casa 212 aircraft for cloud-seeding across affected provinces, said BNPB spokesman Sutopo Purwo Nugroho.
The air operation is boosted by the loan of four Air Tractors from Australia which are fire-fighting aircraft capable of scooping large amounts of water and releasing them over fires. One is already being used in Riau, said Dr Sutopo.
On the ground, there are some 1,500 people in each province from local disaster management agencies, police and army, or volunteer firemen from villages.
"We are tightening law enforcement through stepped-up vigilance by police and local government officials. Soldiers are patrolling plantation areas to guard the fire-prone areas," Dr Sutopo said, adding that police have stepped up warnings against illegal land burning.
Police have caught 39 people suspected of illegal land burning this year and have sealed off their land.
Meanwhile, local media in Sumatra said organisations were distributing masks to motorists.
In South Sumatra, which had the most hot spots and land burning in the last few days, the health authorities reported 22,555 residents complaining of respiratory problems. The number in Riau was 1,002.(L/P008/R03)
Mi'raj Islamic News Agency (MINA)