Indonesia Should Fight For Kashmir as for Palestine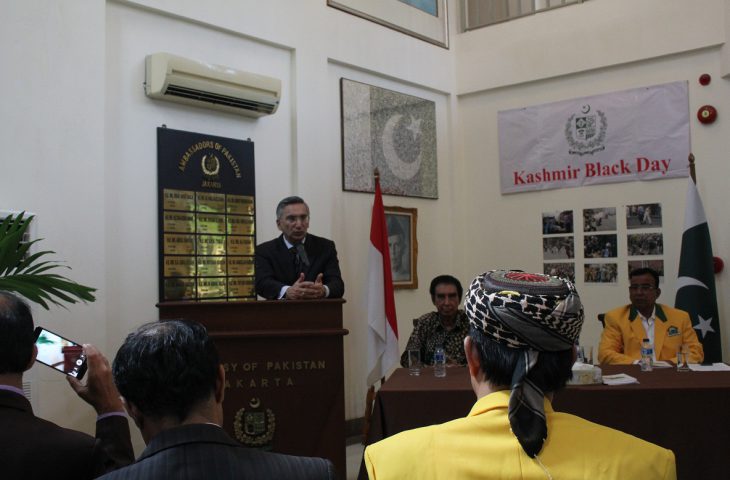 Jakarta, 23 Syawwal 1437/29 Juli 2016 (MINA) – Indonesian people and its government was asked to fight for Kashmiri Muslim rights which has been occupied for more than 70 years.
The statement made by Pakistan's Ambassador to Indonesia Aqil Nadeem in commemoration of Kashmir Black Day at the Pakistani Embassy in Mega Kuningan, Jakarta, Wednesday (27/7).
"We hope Indonesia can support the people of Kashmir. We keep trying to push through Parliament to help us in Kashmir. I also suggest Indonesia's voice must come out in support of Kashmir. Such as through demonstrations in the streets as they did for the liberation of Palestine, "he said.
Kashmiri Muslims have been subjected to violence throughout their lives. Since decades, India has been trying to annex the land by force.
"All we know India has violated human rights in Kashmir. And the world keep on silent," he stressed.
Nadeem himself urged Indonesia on various elements ranging from the ranks of the government and people of Indonesia in order to encourage the solving problems of Kashmir issue.
According to Nadeem, India sought to decrease the majority of the Muslim population in Kashmir, so that after the Hindu population get to strengthen,  the country will bring Kashmir to the United Nations to recognize it as a part of India, according to the 1947 agreement agreed upon three sides with England and Pakistan.
Until July 15, 40 deaths were  reported in the Indian-held Kashmir by troops that exercise aggression on peace-loving locals demanding freedom of choice.
The call to observe black day on July 20 was made by Prime Minister Nawaz Sharif after tensions in the valley escalated following killing of Burhan Wani, a freedom fighter.(L/R04/R03)
Mi'raj Islamic News Agency (MINA)