IIBF 2015: CULTURAL DIPLOMACY AMONG NATIONS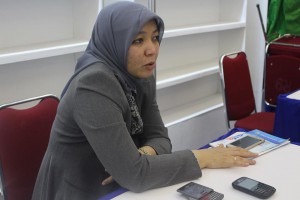 Indonesia International Book Fair (IIBF) 2015 is held on 2 to 6 September 2015 in Jakarta Convention Center (JCC) at the capital city, presenting thousands of books from home and abroad.
This year, India, South Korea, Malaysia, the Netherlands, Germany, and other countries participate in the exhibition, displaying books and other promotions during the event. However, Indonesia has chosen South Korea as this year's guest of honor, following Saudi Arabia as the guest of honor in last year's fair.
Are there reasons behind the election of South Korea as the guest of honor this year? Here's Q&A of Mi'raj Islamic News Agency (MINA) reporter with the Chairwoman of IIBF Rosidayati Rozalina on the sidelines of  the event.
MINA: Can you tell us about IIBF 2015?
Rosidayati: IIBF 2015 is the second international exhibition of Indonesian bookfair, Saudi Arabia was our guest of honor, eventhough we have carried out this annual event for 35 times. The organizer, Association of Indonesian Publishers (IKAPI), has done this continuesly. However, last year we transformed the event into an international level, as foreign countries started to pay attention to our books. This is also related with Indonesian involvement as the Guest of Honor at the biggest book fair in Frankfurt, Germany This coming October.
MINA: Is  there special support from the government?
Rosidayati: Alhamdulillah. IIBF is actually supported by the government since last year, and it has funded aid as well, but last year's budget was delayed due to some issues. Thank God this year the government is very enthusiastic in helping the IIBF.
MINA: From which countries participate in this year's iibf?
Rosidayati: There  are participants from the Netherlands, South Korea, India, Malaysia, Germany. They seem so enthusiastic to participate in this event from the beginning.  Moreover, Malaysia is very keen to develop their publishers in south east Asia.
MINA: What is the reason for choosing South Korea as the guest of honor this year? Is it due to the K-Pop fever in Indonesia?
Rosidayati: Yeah, it was one of our reasons. But there are many other reasons. they have more cultures that we do not know, such as lifestyle, as well as unique and historic places there. So this is not just a book fair, but also cultural exhibitions.
MINA: Who decides which country to be the Guest of Honor?
Rosidayati:  The committee a.k.a. IKAPI did. We see many Korean lover communities in Indonesia, so this is one chance for Korea to get closer to Indonesia, because there are many things about Korea that need to be explored further, like their  rich culture, and others.
MINA: How many participants are there this year?
Rosidayati: This year's event is followed by 63 participants filling 97 booths, consisting of domestic and foreign publishers, university presses, bookstores and distributors, publishers of digital books and digital as well as online book stores, literary agents, national libraries, and etc.
MINA: How much does this year's fair budget cost?
Rosidayati: To be sure, for the rental fee itself we spent about 1 Billion rupiahs. For numbers, I have not get the latest data, but until now we've spent more than 2 Billion rupiah.
MINA: What's interesting about South Korea?
Rosidayati: We have a lot in common. Not only in terms of culture, but our lifestyle is pretty close to Korea. In addition, this August, South Korea also celebrates the anniversary of independence similar to Indonesia. Many other things bring us closer.
MINA: What is the highlight of IIBF 2015?
Rosidayati: This year's event coincides with the time where Indonesia will be a guest of honor at the Frankfurt bookfair in Germany. In addition, while previously of the Book of the Year was judged from the sales of the book, now we set a new criteria on how many other languages the books are translated. In addition, all the books to be shown in Frankfurt bookfair will be displayed at the ministry booth in the IIBF. In addition, South Korea offers prizes during the event. Also, we begin to look into mobile apps. We are still testing the water here but it is developing better and better.
MINA: What's your optimism for IIBF this year?
Rosidayati: First, we were very pleased with the government's enthusiastic support this year. Because IIBF  won't be perfect without government support. Second, Korea is still a trending topic in Indonesia, and a free ticket prize to Korea given every day during the event will be exciting for Indonesians. I also hope that the publishing industry is growing in Indonesia amid tight global challenges.(L/R04/NMT)
Mi'raj Islamic News Agency (MINA)