UN HOPES GAZA CEASE FIRE LEADS TO LONG-TERM PEACE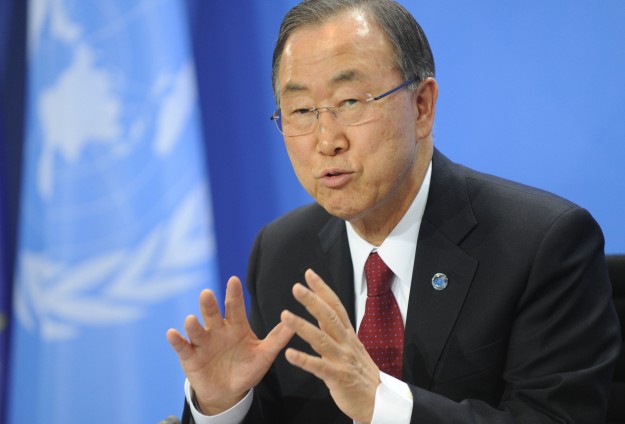 New York, 1 Dzulqaidah 1435/27 August 2014 (MINA) – The U.N. Secretary General welcomed the announcement of a cease-fire in the Gaza Strip after 50 days of fighting, expressing his hope for its durability in a statement issued Tuesday at the organization's headquarters in New York.
Ban Ki-Moon said he hoped that the agreement, brokered under Egyptian auspices, will act as a "prelude to a political process" which is the "only way of achieving durable peace."
He called on both parties "to return to meaningful negotiations" towards a final status agreement for Palestinian that would address "all core issues and ends the 47-year occupation." Anadolu Agency (AA) quoted by Mi'raj Islamic News Agency (MINA) as reporting, Tuesday
"After this latest round of killing and the further widespread destruction of Palestinian homes, civilians on both sides need a reprieve in order to resume their daily lives, and to allow for humanitarian and early recovery efforts to address the desperate needs of the people in Gaza," said Ban.
He noted that a "brighter future" for Gaza and for Israel depends on a sustainable cease-fire, and "it is up to the parties to live up to this responsibility."
The U.N. chief stressed that after unseen human suffering and the physical destruction of Gaza, "any violations of the cease-fire would be utterly irresponsible."
At the same time Ban emphasized that it time to address the root causes of the Israeli-Palestinian conflict. He warned that any talks that does not tackle the "essence of the crisis," is doomed to fail.
He also said the blockade of Gaza must end but that "Israel's legitimate security concerns must be addressed," as well.
– Focus on sustainability
The British president of the U.N. Security Council also praised the cease-fire agreement. UK's ambassador Peter Wilson told reporters at the U.N. that it is important that whatever is agreed upon should be focused and look towards the longer term.
"What we don't want to do is return to the status quo ante, so that is a matter which is still of huge concern to members of the Security Council and the focus of discussions here in New York," Wilson said.
The Security Council is also considering a Jordanian draft resolution on Gaza since it was put forth Aug. 4.
Wilson said there are "a number of different things" that are being considered by the council's member states within the resolution. But, he said the "key responsibility" for the Security Council is to support the peace efforts made in Cairo. (T/P003/R04)
Mi'raj Islamic News Agency (MINA)