Hong Kong Residents Hold Action to Support Muslim Community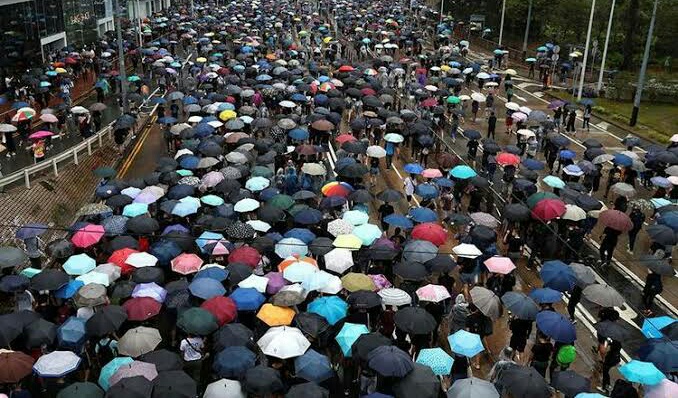 Hong Kong Protesters (photo: special)
Hong Kong, MINA – Residents of Hong Kong gathered at Tsim Sha Tsui on Wednesday, October 23 to voice support for ethnic minority communities.
The demonstration was held exactly three days after spraying water cannon at the entrance of Kowloon Mosque by the police.
The demonstration was carried out after members of Muslim community voiced their opinions on the mosque's watering incident, which the police said was accidental.
On the other hand, community leaders and mosque officials also called on the community to accept the police's apology.
Carrie Lam's Chief Executive, Cheng Yuet-ngor and Police Commissioner Stephen Lo Wai-chung visited Kowloon Mosque on Monday and delivered an apology directly.
Police also said at a press conference on the same day, that the water canon was functioning to protect the mosque, which was feared to be targeted by protesters.
Until Wednesday, the blue watering stain was still seen in the Kowloon Mosque's courtyard.
Fahim Butt (34 years) a native of Pakistan who has lived in Hong Kong for 13 years, was praying at Kowloon Mosque an hour before spraying the water cannon.
He felt hurt and angry over the incident. Not only Butt,  some Muslims also expressed their anger, but most will support the message sent by the Kowloon Mosque's Imam Head, Muhammad Arshad to accept the government's apology.
"You cannot attack anyone's religion, especially prayer places, no matter whether it is a temple, a mosque or a church," Butt said as quoted from Republika on Thursday, October 24.
"We do follow the leaders of imams and Muslim community, but on our own side (personally) we are still angry," he continued. (T/Sj/P2)
Mi'raj News Agency (MINA)