EBOLA FIGHT STILL HAS 'LONG WAY TO GO': UN OFFICIAL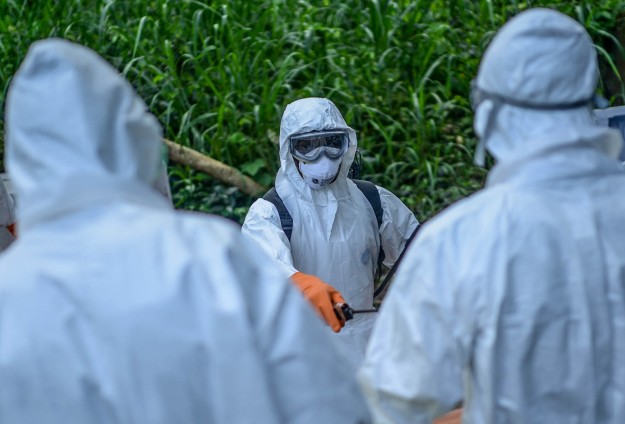 New York, 14 Rabiul Awwal 1436/5 January 2015 (MINA)–  The outgoing head of the UN Mission for Ebola Emergency Response (UNMEER) has warned that the world is nowhere near eliminating the dreaded virus, but remains optimistic regarding the fight's eventual outcome.
"From what we were facing in September to where we are now, I think the response has been successful, but we have a long way to go – an epic battle – and it's a very difficult fight. We don't know what the future holds," Anthony Banbury told pressmen at his final media briefing at UNMEER's headquarters in Accra.
"I am concerned particularly as we get to lower numbers, which I'm confident we will get relatively early in 2015. But two cases here and three there presents a grave threat to any community or country," he said at the presser, which was held after he toured the three most affected countries, namely, Guinea, Liberia and Sierra Leone.
Nevertheless, Banbury said his team had achieved a significant success since being drawn up in September 2014, Anadolu Agency quoted by Mi'raj Islamic News Agency (MINA) as reporting.
"When UNMEER was established, there was no chance in the world that the disease was going to be eradicated in 30, 60 or 90 days. The disease had been spreading for 12 months; UNMEER has been present for one quarter of that time [and] came in when the crisis was at almost its worst. But after the establishment of UNMEER, there has been a steady decline," he said.
He added that the apparent slowdown in the spread of the virus was due to many factors, including contributions by affected communities, the African Union, NGOs, and several other organizations.
When it was commissioned last year, UNMEER set a number of targets to be achieved by January of 2015. Targets included a reduction in the number of new cases from 1.4 million per week to 20,000, promotion of safe burial practices, and the isolation of new cases.
He further stated that economic losses to affected countries were now only about one tenth of what had been earlier predicted.
Banbury will be replaced at UNMEER by Ismail Ould Cheikh Ahmed, who is expected to visit the West Africa region next week. Ahmed will be accompanied by UN Special Envoy for Ebola David Nabarro, who will be making his sixth trip to the epidemic-hit region, according to an earlier UN statement.
Ahmed is expected to visit Ghana on Monday before continuing on to Guinea, Mali, Liberia and Sierra Leone. The new UNMEER chief is a 54-year-old Mauritanian diplomat who had served as number-two at the UN's mission in Libya and who has also worked for various UN development and humanitarian agencies in Syria, Yemen, Kenya and Georgia.
In recent months, Ebola – a contagious disease for which there is no known treatment or cure – has killed 7,905 people, mostly in West Africa, according to the World Health Organization. (T/P010/R03)
Mi'raj Islamic News Agency (MINA)