CALIPHATE BRINGS MERCY AND BLESSING: INDONESIAN ULEMA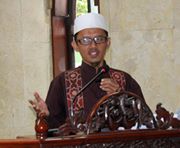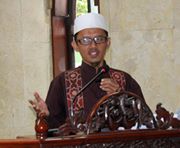 Banten, 3 Jumadil Akhir 1436/23 March 2015 (MINA) –  The Islamic leadership system named  caliphate is a noble system which brings mercy dan blessing for the universe, not brings the damage, hostility, terror and radicalism.
Indonesian ulema, Ali Farkhan Tsani said it on the Islamic World Studies event at Masjid Serpong, South Tangerang, Banten, on Sunday.
The Al Quds envoy also said, caliphate system actually based on Islamic Sharia, The Qoran and Hadith. It becomes the central leadership of Muslims in all over the world. So, the way of its implementation must be in accordance with the commands of Allah and His messanger.
One characteristic of the Allah commands is in the battle, He forbade killing children, women, elders, clergy and civilians who are not involved in the fighting.
"Even the public facilities, trees, and place of other religions worship such as churches must not be destroyed, he said.
He reminded to Muslims who are active in various movements to strengthen the brotherhood with increasing mutual tolerance in terms of differences prespective.
He said the conflict in some Middle East and African countries should make us aware the importance of unity.  "There are too many victims in the crisis and they are Muslims," he added.
"Many mosques were razed, scholars were killed, libraries and historical Islamic heritage were also destroyed. Those are the proof that if Muslims not unite, they will surely be destroyed by Zionist, "he urged.(L/P008/R03)
Mi'raj Islamic News Agency (MINA)