British Activists Hold Protest During Israeli Prime Minister's Visit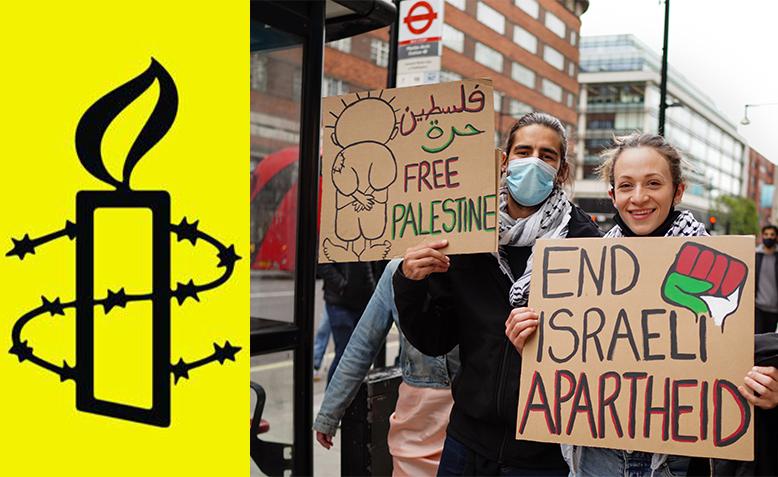 British Activists Hold Protest During Israeli Prime Minister's Visit (photo: Wafa)
London, MINA – British humanitarian activists Amnesty International staged a protest against Israeli apartheid outside Downing Street Thursday afternoon when Israeli Prime Minister Benjamin Netanyahu visited Britain for talks with his British counterpart Rishi Sunak.
Activists hold up placards and banners reading "End Israeli apartheid" at the gate of 10 Downing Street, London, the UK PM's office, WAFA reported.
The protesters wore T-shirts with the same anti-apartheid message, the organization said.
Last year, Amnesty published a major report showing how the Israeli authorities' treatment of Palestinians amounted to the international crimes of apartheid.
The crime is characterized by massive confiscation of Palestinian land and property, extrajudicial killings, forced evictions, restrictions, and denial of citizenship for Palestinians in Israel.
"Since the formation of Israel's new government under Netanyahu in December, there has been a sharp deterioration in the already dire human rights situation in Israel and the Occupied Palestinian Territories. However, the UK made few public statements about the developing crisis and refrained from any substantive criticism of the Israeli authorities," Amnesty said in a press release.
Amnesty UK chief executive Sacha Deshmukh had written to Rishi Sunak ahead of the visit expressing growing concern about Britain's commitment to international justice. (T/RE1)
Mi'raj News Agency (MINA)