ASIAN-AFRICAN CONFERENCE COMMEMORATION BEST MOMENT TO INCREASE NATIONAL SECURITY: CHIEF ARMY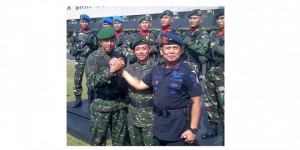 Jakarta, 1 Rajab 1436/19 April 2015 (MINA) – The Major General of Indonesian National Army (TNI), Agus Sutomo asked the government to make the 60th Asian-African Conference Commemoration (AACC) as the best moment to increase national security.
"This event is very important for the countries of Asia and Africa in particular and the countries in the world. So it's the time for Indonesia to show them that the country is save," said the Commander at Jakarta, Sunday.
Agus also asked to its corps to actively securing and guarding the event." All personnels should be in a good condition, if someone fell unwell, he should be replaced," he said."
Based on the information received by Mi'raj Islamic News Agency (MINA), Jakarta Military District provides at least 3,550 personnel and Jakarta Police deploys 4,236 personnel to secure the  Asian-African Conference Commemoration 2015 to provide safety and comfortly for the invited guests in Jakarta.
During the conference, there are at least 19 hotels in Central and South Jakarta which are serving guests.  Each hotel will be maintained as much as 66 personnels from the Army Forces and 65 personnels from the Police.
The 60th Commemoration of the Asia-Africa Conference (19-23 April 2015) located at Jakarta Convention Centre, and it will be held in Jakarta and Bandung.
Jakarta Police security provides around 4,236 personnels. While in Bandung, West Java Police deploys about 5 thousands.(L/P008/R03).
Mi'raj Islamic News Agency (MINA)